CHICAGO (NCBWA) – For the second year in succession and with one repeat performer, the National Collegiate Baseball Writers Association has chosen its nine NCAA Division I District Baseball Players of the Year. Voting for the awards was done by the membership of the NCBWA, featuring writers, broadcasters and publicists of college baseball.
The nine geographic areas include:
I: Maine, Vermont, New Hampshire, Rhode Island, Massachusetts, Pennsylvania
II: Connecticut, West Virginia, New York, New Jersey, Delaware, D.C.
III: Kentucky, Tennessee, Mississippi, Alabama, Florida
IV: Georgia, Virginia, North Carolina, South Carolina, Maryland
V: Ohio, Indiana, Illinois, Michigan, Minnesota, Wisconsin
VI: Iowa, Missouri, Kansas, Oklahoma, Nebraska, North Dakota, South Dakota
VII: Texas, Arkansas, Louisiana
VIII: Wyoming, Utah, Idaho, New Mexico, Colorado, Nevada, Montana
IX: California, Oregon, Washington, Hawaii, Arizona, Alaska.
And from among the ranks of these standouts will be the winner of the prestigious Dick Howser Trophy, which will announced at the College World Series at 10:30 a.m. (CDT) on Friday, June 8, 2001 in the Old Lobby (second floor) of the Courtyard by Marriott.
Utilityman Kevin Kirkby of St. Joseph's (Pa.) is the lone repeater from a group of 2000 NCBWA District Players of the Year. The District I selection pitched and played the infield for the Hawks while rolling up a .392 batting average, with two homers and 41 RBI, while chalking up seven saves in 12 pitching appearances, along with a a 1.74 earned run average.
District II honoree OF Billy McCarthy of Rutgers posted similar outstanding numbers with a .421 batting average (21st nationally in May 28 NCAA statistics), seven home runs and 65 RBI in his 59 games played during the campaign.
In a district (III) which features two of the seven finalists for the Howser Trophy, Tennessee shortstop Chris Burke edged Middle Tennessee pitcher Dewon Brazelton for the honors. Burke led the Vols to the 2001 NCAA Super Regional against East Carolina while rolling to the No. 7 position nationally with a .441 batting average. The 2001 Southeastern Conference Player of the Year also belted 18 home runs in 57 games. Brazelton is making his bid for the Howser Trophy with a 13-1 record over 14 appearances and 148 strikeouts in his initial 119 innings pitched this year.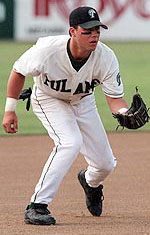 2001 NCBWA District
Players of the Year
Kevin Kirkby, St. Joseph's
Billy McCarthy, Rutgers
Chris Burke, Tennessee
Jeff Baker, Clemson
Aaron Heilman, Notre Dame
Dan Johnson, Nebraska
Jake Gautreau, Tulane
Nate Fernley, BYU
Mark Prior, USC
District IV features a face familiar to college devotees in Clemson 3B Jeff Baker. The Tigers' slugger led his team to the NCAA Clemson Regional crown and a berth at the Miami-Coral Gables Super Regional. His 2001 statistics included a .377 average, 23 home runs and 73 RBI at the 58-game mark and four-bagger leadership in the Atlantic Coast Conference.
Notre Dame pitching ace Aaron Heilman copped District V laurels with a perfect, 15-0 pitching record, 114 innings of work, and 111 strikeouts over 114 IP. He finished the '01 campaign as the current No. 2 man nationally in victories (behind District VIII Player of the Year Nate Fernley of Brigham Young at 16-3) and is another solid candidate among the Howser Trophy finalists.
From District VI the NCBWA selected slugging Nebraska 1B Dan Johnson for top honors. Johnson led the Big 12 Conference with 24 home runs prior to the Lincoln Super Regional against Rice and was fifth nationally in this category. He also paced the league with 84 RBI for third place in Division I at the May 28 mark.
Tulane 3B Jake Gautreau was the organization's District VII choice in one of the nation's most competitive college baseball regions. He is No. 5 nationally with 88 RBI in 63 contests while his 20 home runs topped the Conference USA list. The Green Wave standout helped his 53-10 team to move into a host role at Zephyr Field for the Super Regional against defending NCAA champ LSU.
In another closely-contested vote (derived from the third ballot of the NCBWA All-America team and Howser Trophy competition), District VIII Player of the Year kudos went to BYU's Fernley. The senior pitcher who appeared in 21 games and worked 152 2/3 innings while pacing the Cougars into NCAA Regional first round play is the nation's victories' leader with 16. Finally, the District IX selection was Southern California's righthanded ace Mark Prior.
The Howser Trophy finalist has run up numbers which are almost unequalled nationally with a 13-1 record in 18 appearances, 122 2/3 innings pitched, an NCAA Division-I most 180 strikeouts, a 1.54 earned run average (third nationally), and leadership of the Trojans to within two wins against Florida International of reaching the NCAA World Series on June 8-16 in Omaha.
Related Link:
• 2001 NCBWA Division III regional players of the year