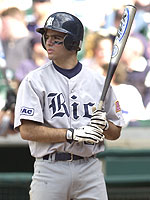 Vincent Sinisi
Rice 1st Baseman
TUSCALOOSA, Ala. (NCBWA) – The 14th annual National Collegiate Baseball Writers Association All-America Team indicates the top-notch abilities of student-athletes throughout the nation in NCAA Division I baseball.
On the week of the 56th NCAA World Series in Omaha, the All-America contingent is a dream team that could make any coach or program proud. From these ranks will come the winner of the Dick Howser Trophy, presented in Omaha this Friday, June 14 at 9:30 a.m. CDT to the most outstanding Division I diamond man in the nation by Verizon/The St. Petersburg Area Chamber of Commerce and the NCBWA (voting entity for the award).
There are 12 standouts who are among the eight teams in the June 14-22 College World Series at Rosenblatt Stadium and six returnees from the 2001 first, second or third units selected by the 200-plus voting members of the NCBWA for 2002.
Nine NCBWA mainstays from the District Players of the Year for Division I all landed places on the first three units as the 2002 team is one of the youngest contingents in the history (1989-02) of the selections.
Rice first baseman Vincent Sinisi is a redshirt freshman with .432 hitting credentials (11th nationally in batting average) while Southern University stalwart Rickie Weeks led the nation in hitting with a .495 average, 20 home runs and 96 RBI as he posted Davey Johnson-like numbers as the first team second baseman.
The four starting pitchers – three sophomores and a junior – on the initial unit had a combined record of 53-8 with 509 strikeouts in 494-plus innings and include the nation's first choice in the 2002 Major League Draft, Ball State righthander Bryan Bullington. Relief aces senior Blake Taylor of South Carolina and junior Royce Ring of San Diego State combined for 38 saves prior to the 2002 CWS.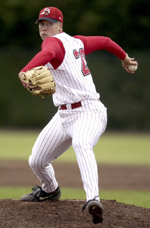 Bryan Bullington
Ball State Pitcher
The left side of the infield, though, is the envy of any college coach. 2002 Dick Howser Trophy finalist senior shortstop Khalil Greene is third nationally witha .480 batting average for coach Jack Leggett's World Series-bound Clemson Tigers along with 26 home runs and 86 RBI. Teammate 3B Jeff Baker briefly eclipsed the Clemson season record for home runs with 25 before Greene topped that in a subsequent NCAA Super Regional game against Arkansas and sports 82 RBI for one of the nation's top 1-2 hitting punches at any pair of positions.
Catcher Jed Morris powered Nebraska to its second consecutive appearance at Rosenblatt Stadium in the nationals at Omaha, Neb., with a Big 12 Conference-high 21 homers and 84 RBI while New Mexico State outfielder Ryan Kenning paced the Aggies to their first-ever NCAA appearance in 2002 with 24 dingers and 96 RBI. Notre Dame's speed merchant Steve Stanley helped the Fighting Irish make their first trek to the NCAA World Series since 1957 with a solid series in the Super Regional at Florida State and carries a .445 average with 31 stolen bases through games of June 10. DH-UT John McCurdy of Maryland posted numbers (.443, 19 HR, 77 RBI) that kept the Terrapins in contention for a postseason berth for most of the season.
While the three All-America teams have a solid flair from the state of South Carolina (four Clemson standouts, two from South Carolina, and one each from Coastal Carolina and College of Charleston), there are a total of 34 teams from nine Division I conferences represented on the 2002 lists. Previous first-teamers on the NCBWA All-America contingents since '89 have included Georgia Tech catcher Jason Varitek, Clemson pitcher Kris Benson, Texas P-DH-1B Brooks Kieschnick, LSU second baseman Todd Walker, Cal State Fullerton OF Mark Kotsay, Southern California pitcher Mark Prior, Wichita State pitcher Braden Looper, Stanford catch A.J. Hinch, and Old Dominion shortstop Tim Hummel, among others.
2002 NCBWA ALL-AMERICA TEAMS
First Team
1B Vincent Sinisi, Fr., Rice (.432, 11 HR, 80 RBI)
2B Rickie Weeks, Soph., Southern (.495, 20 HR, 96 RBI)
3B Jeff Baker, Jr., Clemson (.335, 25 HR, 82 RBI)
SS Khalil Greene, Sr., Clemson (.480, 26 HR, 86 RBI)
C Jed Morris, Jr., Nebraska (.380, 21 HR, 84 RBI)
OF Ryan Kenning, Sr., New Mexico State (.319, 24 HR, 96 RBI)
OF Steve Stanley, Jr., Notre Dame (.445, 1 HR, 35 RBI, 31 SB)
OF Vito Chiaravalloti, Jr., Richmond (.366, 23 HR, 86 RBI)
UT/ATH John McCurdy, Jr., Maryland (.443, 19 HR, 77 RBI)
SP Bryan Bullington, Jr., Ball State (11-3, 2.84 ERA)
SP Brad Sullivan, Soph., Houston (13-1, 1.82 ERA)
SP Tim Stauffer, Soph., Richmond (15-3, 1.54 ERA)
SP Justin Simmons, Soph., Texas (14-1, 2.52 ERA)
RP Royce Ring, Jr., San Diego State (5-1, 1.85 ERA, 17 saves)
RP Blake Taylor, Sr., South Carolina (6-1, 2.03 ERA, 21 saves)
Second Team
1B Nate Gold, Sr., Gonzaga (.333, 33 HR, 76 RBI)
2B James Jurries, Sr., Tulane (.408, 20 HR, 74 RBI)
3B Tom Merkle, Jr., New York Tech (.430, 20 HR, 68 RBI)
SS Mark Kiger, Sr., Florida (.403, 11 HR, 55 RBI)
C David Castillo, Soph., Oral Roberts (.398, 14 HR, 79 RBI)
OF Ryan Goleski, Soph., Eastern Michigan (.381, 22 HR, 70 RBI)
OF Brian Wright, Sr., N.C. State (.418, 14 HR, 73 RBI)
OF Terry Trofholz, Jr., TCU (.441, 3 HR, 40 RBI)
UT/ATH Ryan Barthelemy, Sr., Florida State (.362, 17 HR, 94 RBI)
UT/ATH Jesse Crain, Jr., Houston (.309, 11 HR, 47 RBI; 4-0, 0.23, 10 saves)
SP Steve Reba, Sr., Clemson (13-3, 4.06 ERA)
SP Alex Hart, Jr., Florida (13-3, 3.24 ERA)
SP Jeremy Guthrie, Jr., Stanford (12-1, 2.34 ERA)
SP Kyle Sleeth, Soph., Wake Forest (14-0, 2.97 ERA)
RP Randy Corn, Sr., The Citadel (1-0, 1.37 ERA, 13 saves)
RP Dave Bush, Sr., Wake Forest (8-1, 1.64 ERA, 13 saves)
Third Team
1B Yaron Peters, Sr., South Carolina (.398, 28 HR, 92 RBI)
2B Corey Loomis, Jr., Bowling Green (.404, 13 HR, 52 RBI)
3B Lee Curtis, Jr., College of Charleston (.409, 15 HR, 65 RBI)
SS Russ Adams, Jr., North Carolina (.370, 7 HR, 55 RBI, 45 SB)
C Jeremy Brown, Jr., Alabama (.320, 11 HR, 64 RBI)
C Chris Snyder, Jr., Houston (.343, 15 HR, 71 RBI)
OF Justin Owens, Sr., Coastal Carolina (.417, 11 HR, 58 RBI)
OF Mark Jurich, Soph., Louisville (.365, 16 HR, 60 RBI)
OF Wes Reohr, Sr., Penn State (.393, 9 HR, 38 RBI)
OF Sam Fuld, Soph., Stanford (.372, 6 HR, 43 RBI)
OF Dustin Majewski, Jr., Texas (.403, 9 HR, 45 RBI)
OF Adam Bourassa, Jr., Wake Forest (.412, 2 HR, 41 RBI, 26 SB)
UT/ATH Darryl Lawhorn, Fr., East Carolina (.419, 17 HR, 61 RBI)
UT/ATH Bob Malek, Jr., Michigan State (.402, 16 HR, 66 RBI)
SP Lance Cormier, Sr., Alabama (11-3, 3.28 ERA)
SP Matt Henrie, Jr., Clemson (12-4, 3.04 ERA)
SP Scooter Michael, Soph., UNC Greensboro (12-1, 2.76 ERA, 3 saves)
SP Philip Humber, Fr., Rice (11-1, 2.67 ERA)
SP Kyle Bakker, Soph., Georgia Tech (12-2, 3.34 ERA)
SP Paul Maholm, Soph., Miss. State (10-3, 3.43 ERA)
SP Shane Komine, Sr., Nebraska (10-0, 1.87 ERA)
RP Taylor Tankersley, Fr., Alabama (8-5, 2.62 ERA, 7 saves)
RP James Russell, Jr., Villanova (1-3, 2.33 ERA, 15 saves)
Related links:
• 2002 NCBWA Preseason All-America team
• 2001 NCBWA All-America team