DALLAS (NCBWA) – The National Collegiate Baseball Writers Association (NCBWA) has announced today that its inaugural National Coach of the Year Award will go to Fresno State skipper Mike Batesole. The award, which was voted on by the NCBWA Board of Directors, was chosen from a list that included all Division I Conference Coaches of the Year.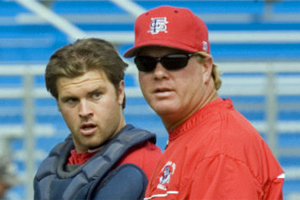 Mike Batesole
Batesole has led the Bulldogs (42-29) to their first College World Series appearance since 1991 and guided Fresno State to Omaha as the first No. 4 seed to advance to the CWS since the 64-team format was introduced in 1999. He earned Western Athletic Conference Coach of the Year honors for the first time after Fresno State won its third consecutive regular-season WAC title.
The Bulldogs followed that up with a third WAC Tournament championship in a row and won the Long Beach Regional with a victory over Long Beach State and two wins over top-10 ranked San Diego. After losing the opening game of the Tempe Super Regional, Fresno State posted back-to-back wins over then-No. 4 Arizona State to earn the trip to the CWS.
Batesole is finishing his sixth season at the helm of the Bulldogs. He has a record of 214-163 at FSU and ranks third on the school's all-time victory list. Batesole also served eight seasons as head coach at Cal State Northridge and owns a career record of 470-321-1 over 13 campaigns.
NCBWA membership includes writers, broadcasters and publicists. Designed to promote and publicize college baseball, it is the sport's only college media-related organization, founded in 1962.
For additional information on the NCBWA Coach of the Year Award, contact Russ Anderson at Conference USA at 214-774-1351.
Related link:
• NCBWA Coach of the Year