OMAHA (NCBWA) – After leading Michigan to the College World Series, Wolverines head coach Erik Bakich has been named the National Collegiate Baseball Writers Association National Coach of the Year.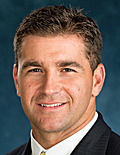 Bakich
"Erik Bakich has done a magnificent job of returning the Michigan baseball program to its traditional status," said NCBWA executive director Bo Carter. "To go on the road and upset the No. 1 NCAA Championship seed UCLA is one of the great feats in college baseball this season. He has been an inspiration and a great motivating force for the Wolverines throughout the season and now into the College World Series. Congratulations to coach Bakich for this national honor."
Michigan went on the road and knocked off No. 1 overall seed UCLA in the Super Regionals to advance to the College World Series for the first time since 1984. The Wolverines were the only team to win a series against the Bruins all year and will return to Omaha for the eighth time in program history.
Bakich led the Wolverines to a 46-20 record, the most wins by a Michigan team since 2008, and a 16-7 Big Ten record. After starting 5-3 in conference through three series, the Wolverines won 11 straight games, including a nine-game conference winning streak to move to 14-3 in league play. They advanced to the semifinals of the Big Ten Tournament after dropping their opening game.
Michigan won its first two games of the NCAA Corvallis Regional, 6-0 over Creighton in the opener and 10-4 over Cincinnati the following day to move into the driver's seat of the regional. After losing once to Creighton on Sunday, the Wolverines pulled away late in a winner-take-all game for a 17-6 win to move on to Super Regionals for the first time since 2007.
Under Bakich, eight Wolverines earned All-Big Ten Conference honors. highlighted by junior outfielder Jordan Brewer who was named the Big Ten Conference Player of the Year. Sophomore designated hitter Jordan Nwogu and sophomore pitcher Jeff Criswell joined Brewer on the first team while closer Willie Weiss was named to the All-Big Ten Freshman Team. Brewer, Karl Kauffmann and Tommy Henry have all earned All-America honors by various publications.
Additionally, Bakich had five players selected in the 2019 MLB Draft. Pitchers Tommy Henry and Karl Kauffman were both taken in the Competitive Balance Round B, with Henry going to the Arizona Diamondbacks with the 74th pick and Kauffman being selected by the Colorado Rockies 77th overall. Brewer went 106th overall in the third round to the Houston Astros while the Oakland A's took pitcher Jack Weisenburger in the 20th round and infielder Jimmy Kerr was selected in the 33rd round by the Detroit Tigers.
NCBWA membership includes writers, broadcasters and publicists. Designed to promote and publicize college baseball, it is the sport's only college media-related organization, founded in 1962.
ALL-TIME NCBWA COACHES OF THE YEAR
2019: Erik Bakich, Michigan
2018: Gary Henderson, Mississippi State
2017: Pat Casey, Oregon State
2016: Gary Gilmore, Coastal Carolina
2015: Paul Mainieri, LSU
2014: Mike Gillespie, UC Irvine
2013: Tracy Smith, Indiana
2012: Matt Senk, Stony Brook
2011: David Esquer, California
2010: Jim Schlossnagle, TCU
2009: Brian O'Connor, Virginia
2008: Mike Batesole Fresno State
Related link:
• NCBWA Coach of the Year