OMAHA, Neb. (NCBWA) – Clemson shortstop Khalil Greene was named the recipient of the 2002 Verizon Dick Howser Trophy as the college baseball player of the year by the National Collegiate Baseball Writers Association and the St. Petersburg (Fla.) Area Chamber of Commerce.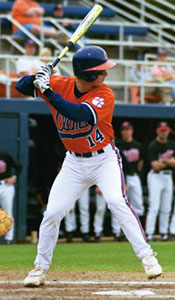 2002 Verizon Dick Howser Trophy winner Khalil Greene of Clemson
The announcement was made here Friday, where Greene's Tigers were readying for their first game of the 2002 College World Series against home-state Nebraska Friday night.
"I think if anybody can handle this award and turn around and concentrate on the game tonight, it would be Khalil," said his coach, Jack Leggett. "I don't have any worries about him."
That was the case all season for Leggett, who called Greene the most consistent player he has had in 25 years of coaching.
Greene hit .480 heading into the CWS with a school-record 26 homers, a nation-high 191 hits and 86 runs batted in. He is second on NCAA career charts for hits (398) and doubles (92).
Greene said he was honored by the selection from the baseball writers but did not expect it to distract him in the tournament.
"I'm comfortable with it," he said. "I'm not going to back down any."
Greene credited his success to playing for the team.
"I tried to fit in as a team player more than an individual player," he said. "The individual things would come."
Leggett said Greene was deserving on all aspects of the Howser Trophy criteria – performance, leadership, moral character and courage. The junior from Key West, Fla., had the best start-to-finish season Leggett had seen in his coaching career. He said Greene also does the right things, played through injury and became an unexpected team leader despite his quiet demeanor.
The Verizon Dick Howser Trophy was named after the former Florida State All-American player who went on to play eight seasons in the major leagues and manage the New York Yankees and Kansas City Royals. Howser died of cancer in 1987.
The winner's name is inscribed on the permanent trophy, a bronze bust of Howser permanently displayed at Tropicana Field in St. Petersburg, home of the Tampa Bay Devil Rays and the 1999 NCAA Men's Basketball Final Four, among other championship events. Both the winner and his school receive a special trophy to keep on public display at the university.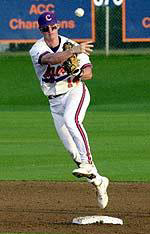 Greene was the ACC and NCBWA District IV Player of the Year
The St. Petersburg Area Chamber of Commerce celebrated its 100th birthday in 1999. The organization has long been a vital force in the baseball affairs of the city, both in spring training and during the pursuit of a major league baseball franchise for the Tampa Bay area, and continues its solid role in the in both college and professional sports as well as serving as the home for the Association of Professional Baseball Leagues.
With operations in 16 countries and annual revenues of more than $4.3 billion, Verizon Information Services publishes nearly 1,200 U.S. Verizon SuperPages directories and 400 international directories with a total circulation of approximately 150 million copies worldwide. The company also produces and markets SuperPages.com, the Internet's No. 1 online directory and shopping resource.
NCBWA membership includes writers, broadcasters and publicists. Founded in 1962 and designed to promote and publicize college baseball, it is the sport's only college media-related organization.
The Howser Trophy was created in 1987, shortly after Howser's death. 1987-98 winners were selected by the American Baseball Coaches Association before the NCBWA became the voting body in 1999.
Previous winners of the Howser Trophy are Mike Fiore, Miami, 1987; Robin Ventura, Oklahoma State, 1988; Scott Bryant, Texas, 1989; Alex Fernandez, Miami-Dade Community College South, 1990; Frank Rodriguez, Howard College (Texas), 1991; Brooks Kieschnick, Texas, 1992 and 1993; Jason Varitek, Georgia Tech, 1994; Todd Helton, Tennessee, 1995; Kris Benson, Clemson, 1996; J. D. Drew, Florida State, 1997; Eddy Furniss, LSU, 1998; Jason Jennings, Baylor, 1999; Mark Teixeira, Georgia Tech, 2000; and Mark Prior, USC, 2001.
For further information, please contact: David Feaster, Chairman, Dick Howser Trophy Committee (727-388-1000) or Russell Anderson, NCBWA (312-553-0483).
Related Links:
• 2002 Dick Howser Trophy semifinalists
• Verizon SuperPages, SuperPages.com to sponsor Dick Howser Trophy
• 2002 NCBWA Division I District Players of the Year
• USC's Mark Prior wins 2001 Dick Howser Award