DALLAS (NCBWA) – University of Texas closer J. Brent Cox has been named the first-ever winner of the National Collegiate Baseball Writers Association's Stopper of the Year Award, the association announced Wednesday. The award honors the top relief pitcher in college baseball.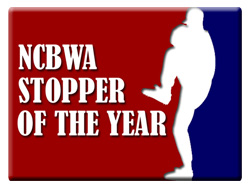 Cox helped guide the Longhorns (49-15) to a spot in this weekend's NCAA Super Regional best-of-three series at Mississippi after picking up his 15th save of the season in a 5-2 win over Arkansas Monday to clinch the regional championship
Cox is 7-2 on the season with a 1.69 ERA in 64.0 innings. He has 71 strikeouts against 16 walks in 34 appearances this season. He is holding opponents to a .205 batting average and has combined for five shutouts this season. Opponents have 47 hits, but have scored only 14 runs (12 earned). Take away six earned runs in an 8-7 win over Stanford on Feb. 19 and he has allowed only eight runs with six earned.
The first-team All-Big 12 selection is second in Texas school history with 98 appearances and 20 saves. The junior from Bay City, Texas was first Texas player taken in this week's Major League First-Year Player Draft, going in the second round as the 63rd overall pick to the New York Yankees.
Cox beat out the other four finalists for the award, which included Daniel Best from Southern Mississippi, Craig Hansen from St. John's, Steve Kleen from Pepperdine and Erik Morrison from Ball State.
This was the first year for the annual NCBWA Stopper of the Year Award. The NCBWA, founded in 1962, presents the Xanthus-Dick Howser Trophy to the nation's top player. It also selects a Division I All-America Team, Division I and III Players of the Week, Division I District Players of the Year and Division III Players of the Year.
For more information on the NCBWA Stopper of the Year, contact Todd Lamb at The Ohio State University at 614-688-0343 or Russ Anderson at Conference USA at 214-774-1351.
2005 NCBWA Stopper of the Year key dates:
• Jan. 27: NCBWA introduces Stopper of the Year Award
• Week of Feb. 21: Initial watch list released
• Week of April 18: Midseason update released
• Wed., June 1: Stopper of the Year finalists announced
• Wed., June 8: NCBWA Stopper of the Year announced