LINCOLN, Neb. (NCBWA) – Sam Houston State University relief ace Luke Prihoda has been named the 2007 winner of the National Collegiate Baseball Writers Association's Stopper of the Year Award, the association announced Wednesday. The award honors the top relief pitcher in college baseball.
Prihoda helped guide the Southland Conference champion Bearkats (40-24) to a runner-up finish at the Oxford Regional, as Sam Houston State advanced to the NCAA tournament for the first time since 1996. SHSU was one of only two No. 4 seeds to advance to a regional title game, as Prihoda earned a win and a save in his two NCAA appearances. He had a win or save in 25 of Sam Houston State's 40 victories during the season.
On the season, the right-hander from Weimar, Texas, compiled a 7-3 record with a national-best 18 saves in 19 chances, while posting a 1.62 ERA in 35 appearances. The Southland Conference Pitcher of the Year and Southland Tournament Most Valuable Player, Prihoda struck out 65 and walked 11 in 72.2 innings of work and allowed just five of 35 inherited runners to score.
"This is huge," Prihoda said. "I played with last year's winner (Don Czyz) two summers ago and have been following this award for quite a while. When I set my goals at the start of the season, I set breaking our school record for saves as my top goal. After I broke that record, I went after the conference record and then when I got that one, I thought finishing among the top five in the nation in saves would be outstanding."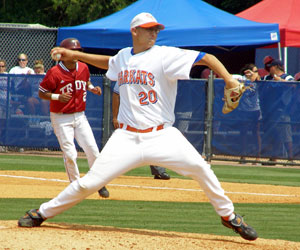 Luke Prihoda

"This is just a perfect end to a great season, especially when you consider who I was competing against for the award," Prihoda said. "I want to thank my teammates and my coaches after winning the conference tournament and getting to the finals of the regional. This will be the team that people will look back on and say that we brought back the once great baseball tradition at Sam Houston State."

Sam Houston State Coach Mark Johnson said that Prihoda's accolades are well deserved.

"There is no question that Luke Prihoda is our Most Valuable Player, and this is a great honor for him," Johnson said. "There are a lot of excellent pitchers in our conference, but Luke contributed more as a reliever and saw more action. He pitched in 35 of our 64 games, and he brought us home quite a few times. He was a joy to watch."

Prihoda bested a field of five finalists in national voting, including Andrew Carignan of North Carolina, Matt German from Northern Illinois, Andy Masten from Creighton and Casey Weathers from Vanderbilt.

This is the third annual NCBWA Stopper of the Year Award. J. Brent Cox of Texas won the inaugural award in 2005, while Don Czyz of Kansas was the 2006 recipient.

The NCBWA, founded in 1962, presents the Dick Howser Trophy to the nation's top player. It also selects a Division I All-America Team, Division I and III Players of the Week, Division I District Players of the Year and Division III Players of the Year.

For more information on the NCBWA Stopper of the Year, contact Shamus McKnight at the University of Nebraska at 402-472-7772 (Ext. 210).

2007 NCBWA Stopper of the Year key dates:
• Fri., Feb. 2: Watch List announced
• Thurs., April 19: Midseason Watch List announced
• Wed., May 30: Stopper of the Year finalists announced
• Wed., June 6: Stopper of the Year announced