STARKVILLE, Miss. (NCBWA) – University of Georgia relief pitcher Joshua Fields is the 2008 recipient of the National Collegiate Baseball Writers Association's Stopper of the Year Award, the NCBWA announced Wednesday.
Fields helped the Georgia Bulldogs (39-22-1) capture the 2008 Southeastern Conference baseball championship and made a pair of game-closing relief appearances last weekend as Georgia claimed the NCAA Athens Regional title. Georgia continues its quest for a College World Series berth this weekend, hosting North Carolina State of the Atlantic Coast Conference in the NCAA Athens Super Regional at Foley Field.
The senior right-hander from Hull, Ga., has tallied 16 saves and a 2-2 record with a 2.27 earned run average in 30 relief appearances. The 2008 Southeastern Conference Pitcher of the Year has registered 56 strikeouts and held opposing hitters to a .112 batting average while preventing any of the 13 runners he inherited from scoring. Twelve of his 16 saves in 2008 came against conference competition. In addition to his contributions on the mound, the semifinalist for this year's Golden Spikes and Clemens Awards also appeared in 10 games as a batter, including six starts as a designated hitter.
A second-round pick of the Atlanta Braves and the 69th player selected overall in the 2007 Major League Baseball draft, Fields relied on a deep-seeded faith to direct his decision to return to Georgia and complete his collegiate career.
"First of all, I'd like to thank Jesus Christ for the opportunity to come back," said Fields. "I think He led me back. At first I was nervous about returning for my senior year. I had a lot of questions that went through my mind, like 'what if I get hurt?' But I truly believe the Lord wanted me to come back… it's been very spiritual for me. I've been blessed to have a great year and help lead our team to this point in our season.
"I am thankful and honored to be receiving the National Stopper of the Year Award, and I share it with my teammates. Without them, I wouldn't be in a position to close out games. I've learned to not worry as much and just have fun out there. For me, it's in the Lord's hands."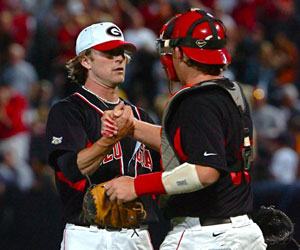 Joshua Fields

Georgia head coach David Perno had praise for his hard-throwing relief ace. "This is a well-deserved honor for Joshua, who is an outstanding young man and one of our leaders," said Perno. "He made his decision to come back for his senior season, to finish strong and be a leader on and off the field. He's had a great year, and has proven to be the nation's top closer, helping his team win the SEC title and the Athens Regional. We're so happy it turned out well for him."

Fields, a finalist for the for award as a sophomore in 2006, topped the field of five finalists in this year's national voting, including Scott Bittle of Mississippi, Tyler Conn of Southern Miss, A.J. Griffin of the San Diego and Eric Pettis of UC Irvine. He enters this weekend's NCAA Super Regional competition with an SEC-record 39 career saves, seventh-most in NCAA history.

Past recipients of the Stopper of the Year Award include J. Brent Cox of Texas in 2005, Don Czyz of Kansas in 2006 and last year's winner, Luke Prihoda of Sam Houston State. More than 50 of the nation's top collegiate relief pitchers were included in the selection process for this year's NCBWA Stopper of the Year Award, beginning with initial preseason nominations by baseball contacts at NCAA Division I schools.

In addition to the Stopper of the Year Award, the NCBWA, founded in 1962, also presents the Dick Howser Trophy to the nation's top player and selects a Division I All-America Team, Division I and III Players of the Week, Division I District Players of the year and Division III Players of the year.

For additional information on the Stopper of the Year Award, contact Joe Dier at Mississippi State University at 662-325-8040 or Russ Anderson at Conference USA at 214-774-1351.

2008 NCBWA Stopper of the Year key dates:
• Thurs., Feb. 14: Watch List announced
• Thurs., April 17: Midseason Watch List announced
• Thurs., May 29: Stopper of the Year finalists announced
• Wed., June 4: NCBWA Stopper of the Year announced