OMAHA, Neb. (NCBWA) – Texas relief pitcher Chance Ruffin is the 2010 recipient of the National Collegiate Baseball Writers Association's Stopper of the Year Award, the NCBWA announced Saturday in Omaha on the opening day of the College World Series.
Ruffin ranks second in the nation with a microscopic 1.11 earned run average, which was the Longhorns' lowest single-season ERA since 1982 and fifth best all-time. The junior from Austin, Texas, compiled a 6-1 record and 14 saves and fanned 97 batters in just 64.2 innings.
Ruffin currently leads the nation and finished second on Texas' single-season list with 13.50 strikeouts per nine innings. He also became the first Texas player to record 10 or more wins in a season (2009) and 10 or more saves in a season (2010).
During the season Ruffin, logged scoreless inning streaks of 22.1 and 21.1 and showcased some late-inning heroics. In the ninth inning of games, he fanned 47 of the 120 batters (39.2%) he faced, registered a 0.87 ERA and held opponents to a .145 batting average.
He earned his third consecutive All-Big 12 honor this season after being named to the first team. Ruffin, who's efforts helped Texas capture the 2010 Big 12 regular season crown, finished league play with a 3-0 mark and five saves. In 31.0 innings pitched, he allowed just three earned runs for an impressive 0.87 ERA and tallied 50 strikeouts. Big 12 opponents hit .180 against him.
Ruffin was selected by the Detroit Tigers in the Compensatory Round A of the 2010 Major League Baseball First-Year Player Draft. The Tigers used the 48th overall pick to chose the Longhorns' closer. It was the highest selection for a Texas player since Drew Stubbs (8th overall) and Kyle McCulloch (29th overall) were picked in the 2006 draft.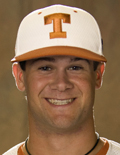 Ruffin

This year's finalists also included Kevin Arico of Virginia, Neil Holland of Louisville, Chris Dennis of Portland and Jordan Swagerty of Arizona State.

More than 50 of the nation's top collegiate relief pitchers were included in the selection process for this year's NCBWA Stopper of the Year Award, beginning with initial preseason nominations by baseball contacts at NCAA Division I schools.

Texas hurler J. Brent Cox won the inaugural Stopper of the Year Award in 2005, with Don Czyz of Kansas claiming the honor in 2006, Luke Prihoda of Sam Houston State winning it in 2007, Georgia's Joshua Fields topping the field in 2008 and San Diego State's Addison Reed grabbing the honor last season.

The NCBWA, founded in 1962, presents the Dick Howser Trophy to the nation's top player. It also selects a Division I All-America Team, Division I Coach of the Year, Division I and III Players of the Week, Division I District Players of the Year and Division II and III Players of the Year.

The Stopper of the Year will also be recognized on the College Baseball Awards show, July 2 in Lubbock, Texas. This event will feature the presentation of the Dick Howser Trophy to the National Player of the Year. Other awards scheduled to be presented during the show include the Brooks Wallace Award, honoring the nation's best shortstop, and the Pitcher of the Year Award. All of the NCBWA season awards will be recognized during the show.

For more information on the NCBWA Stopper of the Year, contact Julie St.Cyr at the Big West Conference at 949-261-2525 or Russ Anderson at Conference USA at 214-774-1351.

2010 NCBWA Stopper of the Year key dates:
• Thurs., Jan. 28: Preseason Watch List
• Thurs., April 15: Midseason Watch List
• Wed., June 2: Stopper of the Year finalists announced
• Sat., June 19: NCBWA Stopper of the Year announced