OMAHA, Neb. (NCBWA) – Florida junior catcher Mike Zunino is the 26th recipient of the Dick Howser Trophy, presented by Easton Foundations, as college baseball's player of the year. The presentation was made Friday morning as part of a news conference at TD Ameritrade Park with several other 2012 national honors being denoted.
Zunino becomes the first Florida alumnus to win the Dick Howser Trophy in a group represented by 20 different schools and 13 conferences since its inception in 1987 with Miami (Fla.) standout Mike Fiore.
The 2012 Howser Trophy recipient also will be honored in the College Baseball Foundation's Night of Champions along with 2012 College Baseball Hall of Fame inductees and other DI honorees June 30 in Lubbock, Texas.
The consensus All-America and 2012 honoree from Cape Coral, Fla. (Mariner HS) led the Gators to a school-record-tying runner-up finish to South Carolina in the 2012 NCAA World Series and paced UF into a rematch with the two-time defending champion Gamecocks Saturday in Omaha.
Zunino also paced the Gators to a 2-0 sweep of N.C. State in the Gainesville Super Regional last weekend with 4-for-8 hitting, a .500 average, three RBI, two runs scored, and his team-best 19th homer of the 2012 season.
He comes to Omaha as both a 2011 and '12 All-America as well as All-Southeastern Conference backstopper both years and with Top 10 totals nationally in almost every individual statistical category.
Zunino started all 64 games for coach Kevin O'Sullivan's Gators, had a team-leading 28 doubles. 19 homers, 64 RBI, and nine sacrifice flies, posted a .678 slugging percentage, had 162 total bases, fielded at a torrid .994 clip (three errors in 493 total chances), and led Florida into the 2012 CWS with a 47-18 overall record.
On June 4 he became the highest draft choice in Gators' history as the No. 3 selection in the first round to the Seattle Mariners. That also capped a third consecutive season on the All-NCAA Gainesville Regional tournament team and back-to-back Super Regional crowns over Mississippi State and the Wolfpack. He was the first UF standout to be drafted in the first round since Matt LaPorta in 2007.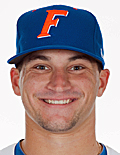 Zunino
"Mike Zunino epitomizes the true qualities of Dick Howser – ability, leadership, character, and courage," said Howser Trophy chair David Feaster of the St. Petersburg Area Chamber of Commerce. "He has taken Florida to new heights in the past two years as well as being a tremendous team leader and go-to student-athlete in all areas."
After passing on a 30th round draft selection by the Oakland A's when he was a senior at Mariner HS in 2009, he has excelled with the bat and catcher's mitt while maturing into one of the top players in UF's illustrious baseball history.
As a sophomore, he became the second Gator in history to be chosen as SEC Player of the Year along with LaPorta in 2005 and '07. It also marked the first of two consecutive finalists for the Johnny Bench Award as national Division I catcher of the year. He also was a semifinalist for both the Dick Howser Trophy and Golden Spikes Award.
In 2010 as a freshman Zunino was both a Freshman All-America and SEC All-Freshman squad member. He was both Florida's starting catcher and designated hitter and earned the first of his three All-Tournament recognitions in the NCAA Gainesville Regional by batting .364 with a 4-for-11 playe showing.
His selection and NCBWA voting in 2012 was some of the closest in years as Zunino edged two other standout finalists senior first baseman Goose Kallunki of Utah Valley State and junior outfielder Raph Rhymes of LSU.
The Dick Howser Trophy, given in memory of the former Florida State University All-America shortstop and major league player and manager who died of brain cancer in 1987, is regarded by many as college baseball's most prestigious award. Criteria for consideration for the trophy include performance on the field, leadership, moral character, and courage, qualities which were exemplified by Dick Howser's life.
A Florida native, Howser was twice an All-America shortstop at Florida State (1957-58), then head coach of the Seminoles in 1979 after a career as a Major League player and coach. After one year in the college ranks, he returned to the majors to manage the New York Yankees and Kansas City Royals and won the World Series with the Royals in 1985. The baseball stadium on the Florida State campus is named for Howser.
NCBWA membership includes writers, broadcasters and publicists. Designed to promote and publicize college baseball, it is the sport's only college media-related organization, founded in 1962.
The College Baseball Foundation was established in 2004 and has inducted 71 greats into the College Baseball Hall of Fame in Lubbock. The group promotes the highest ideals and recognition of greatness on college baseball diamonds in the 150-plus years since the first intercollegiate contest in 1859 between Amherst and Williams.
The Howser Trophy was created in 1987, shortly after Howser's death. Previous winners of the Howser Trophy are Mike Fiore, Miami, 1987; Robin Ventura, Oklahoma State, 1988; Scott Bryant, Texas, 1989; Alex Fernandez, Miami-Dade Community College South, 1990; Frank Rodriguez, Howard College (Texas), 1991; Brooks Kieschnick, Texas, 1992 and 1993; Jason Varitek, Georgia Tech, 1994; Todd Helton, Tennessee, 1995; Kris Benson, Clemson, 1996; J. D. Drew, Florida State, 1997; Eddy Furniss, LSU, 1998; Jason Jennings, Baylor, 1999; Mark Teixeira, Georgia Tech, 2000; Mark Prior, P, USC, 2001, Khalil Greene, SS, Clemson, 2002; Rickey Weeks, 2B, Southern U., 2003; Jered Weaver, P, Long Beach State, 2004; Alex Gordon, 3B, Nebraska, 2005; Brad Lincoln, P/DH, Houston, 2006; David Price, P, Vanderbilt, 2007; Buster Posey, C, Florida State, 2008; Stephen Strasburg, P, San Diego State, 2009; Anthony Rendon, 3B, Rice, 2010; and Taylor Jungmann, P, Texas, 2011.
2012 Dick Howser Trophy:
• Fri., May 18: Dick Howser Trophy semifinalists announced
• Thu., June 7: Dick Howser Trophy finalists announced
• Fri., June 15: Dick Howser Trophy winner announced
Related links:
• More on the Dick Howser Trophy