OMAHA, Neb. (NCBWA) – Southeastern Louisiana relief pitcher Stefan Lopez is the 2012 recipient of the National Collegiate Baseball Writers Association's Stopper of the Year Award, the NCBWA announced Friday in Omaha.
Lopez, a first team NCBWA All-American and a semifinalist for the Dick Howser Trophy, has set Southeastern Louisiana's single-season saves record in 2012 with 20 and holds the school record for career saves with 30. This season, he went 2-1 with an 0.61 ERA in 28 appearances. He pitched 29.1 innings and allowed just two earned runs on 19 hits with five walks and 42 strikeouts. His 20 saves currently leads the nation.
The New Iberia, La., product earned Southland Conference Relief Pitcher of the Year and first team ABCA All-South Central Region team honors and was named a second team All-American by Collegiate Baseball News. The junior was drafted in the 16th round last week by the New York Yankees.
The right-hander helped Southeastern Louisiana post a 39-21 overall record and a 20-13 record in the Southland Conference. The Lions finished second in the Southland this season.
Lopez is the first Lions pitcher to take home the honor and the second player from the Southland Conference, as he joins Luke Prihoda from Sam Houston State who won the award in 2007.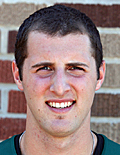 Lopez

This year's finalists also included Robert Benincasa of Florida State, Michael Morin of North Carolina, Robbie Powell of Stetson and Jimmie Sherfy of Oregon. More than 90 of the nation's top collegiate relief pitchers were included in the selection process for this year's NCBWA Stopper of the Year Award, beginning with initial preseason nominations by baseball contacts at NCAA Division I schools.

Texas hurler J. Brent Cox won the inaugural Stopper of the Year Award in 2005, with Don Czyz of Kansas claiming the honor in 2006, Luke Prihoda of Sam Houston State winning it in 2007, Georgia's Joshua Fields topping the field in 2008, San Diego State's Addison Reed grabbing the honor in 2009, Texas' Chance Ruffin winning the award in 2010 and Texas' Corey Knebel claiming the honor in 2011.

The NCBWA, founded in 1962, presents the Dick Howser Trophy to the nation's top player. It also selects a Division I All-America Team, Division I Coach of the Year, Division I and III Players of the Week, Division I District Players of the Year and Division II and III Players of the Year.

The Stopper of the Year will also be recognized on the College Baseball Foundation Night of Champions June 30 in Lubbock, Texas. This event will feature the presentation of the Dick Howser Trophy to the National Player of the Year. Other awards scheduled to be presented during the show include the Brooks Wallace Award, honoring the nation's best shortstop; the CBF John Olerud Award for the best dual position player nationally in Division I, and the Pitcher of the Year Award.For more information on the NCBWA Stopper of the Year, contact Tami Cutler at Wichita State at 316-978-5559 or Russ Anderson at Conference USA at 214-774-1351.

2012 NCBWA Stopper of the Year key dates:
• Tues., Jan. 31: Preseason Watch List
• Thurs., April 19: Midseason Watch List
• Tues., June 5: Stopper of the Year finalists announced
• Fri., June 15: NCBWA Stopper of the Year announced (Omaha, Neb.)