OMAHA (NCBWA) – UCLA's David Berg was named the Stopper of the Year by the National Collegiate Baseball Writers Association on Saturday at TD Ameritrade Park, becoming the first two-time recipient of the award. Berg also was named the NCBWA Stopper of the Year in 2013.
A finalist for the Dick Howser Trophy, Berg was named a first-team All-American by the NCBWA, Louisville Slugger and D1Baseball. He was a sixth-round draft pick by the Chicago Cubs and earned Pac-12 Pitcher of the Year honors after posting 13 saves and a 7-1 record in 43 appearances, notching a 0.68 ERA and allowing just 49 hits and eight walks over 66 2/3 innings while striking out 65 batters.
Berg leads the nation in pitching appearances, ranks second in ERA, seventh in WHIP (0.86) and strikeout-to-walk ratio (8.13), and 10th in walks allowed per nine innings (1.08). He is one of only three players ever to earn four first team All-Pac-12 honors and contributed to the first no-hitter in UCLA history on May 15. Berg helped UCLA earn the No. 1 national seed in the 2015 NCAA Tournament and the Bruins reached the NCAA Los Angeles Regional final. He set the NCAA career record for appearances with 175.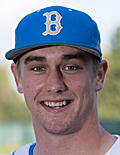 Berg

Finalists for the Stopper of the Year award included Tyler Jay of Illinois, Brandon Koch of Dallas Baptist, Ryan Meisinger of Radford and Bryan Young of Missouri State.

Texas hurler J. Brent Cox won the inaugural Stopper of the Year Award in 2005, with Don Czyz of Kansas claiming the honor in 2006 and Luke Prihoda of Sam Houston State winning it in 2007. Georgia's Joshua Fields topped the field in 2008, San Diego State's Addison Reed grabbed the honor in 2009 and Texas' Chance Ruffin took the honor in 2010. Corey Knebel of Texas won in 2011, with Southeastern Louisiana's Stefan Lopez picking up the honor in 2012. UCLA's David Berg was the recipient of the award in 2013 and Louisville's Nick Burdi earned the honor in 2014.

The NCBWA, founded in 1962, presents the Dick Howser Trophy to the nation's top player. It also selects All-America Teams for all Divisions, a Division I Freshman All-American team, Division I, II and III Players of the Week and Division I, II and III Players of the Year.

2015 NCBWA Stopper of the Year key dates:
• Wed., April 21: Midseason Watch List
• Tues., June 3: Stopper of the Year finalists announced
• Sat., June 13: Stopper of the Year winner announced