OMAHA, Neb. (NCBWA) – Louisville's Brendan McKay, arguably the top player to don the U of L red and black in its baseball history, is the 31st recipient of the Dick Howser Trophy, presented by The Game Headwear, as college baseball's Player of the Year. He also is the first Cardinals player to receive the Howser Trophy.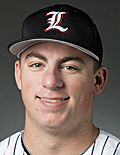 McKay
The Howser Trophy committee and National Collegiate Baseball Writers Association announced the award Saturday at a national news conference at TD Ameritrade Park prior to the opening game of the 71st annual NCAA Division I Baseball College World Series. McKay is the eighth student-athlete from the Atlantic Coast Conference and second in succession after Clemson's Seth Beer in 2016 to nab this national honor.
McKay, a 6-2, 220-pound pitcher/first baseman from Darlington, Pa., was the 2017 ACC Player of the Year, 2017 Collegiate Baseball and Baseball America Player of the Year and a first team consensus All-America choice this year.
He enters the 2017 NCAA World Series after pacing the seventh-seeded Cardinals, who are 52-10 after winning the NCAA Louisville Regional and Super Regional meets, to a Top Six national polls' ranking throughout the season and a school record for victories. U of L has made four consecutive treks to the NCAA Regionals and three during McKay's playing tenure.
McKay enters the 2017 CWS with a .343 batting average, 17 home runs, 56 runs-batted-in, .657 slugging percentage, and a .464 on-base percentage. His is ranked in the Top 10 in 2017 ACC individual statistics in seven different categories.
Just as effective on the mound, McKay is 10-3 overall with a 2.34 earned run average and 140 strikeouts in 104 innings (12.1 whiffs every nine innings) and an opposing hitters' batting average of .188. He was the Cardinals' Friday starter throughout a 23-6 ACC season as the conference's regular-season champion.
McKay has won the Jon Olerud Two-Way Player of the Year Award for three consecutive seasons. He was NCBWA Division I National Player of the Month in February by the National Collegiate Baseball Writers Association, the National Midseason Player of the Year by Perfect Game and the National Midseason Most Valuable Player by D1Baseball.com.
The Pennsylvania native has been consensus All-America in both 2016 and '17 as well as 2016 and '17 NCAA Louisville Regional All-Tournament. In 2017 he was named NCBWA District III Player of the Year. He has paced head coach Dan McDonnell's squad to their first NCAA World Series appearance since 2014 (fourth in school history, all under McDonnell since 2007), has been All-ACC each of the last two seasons, 2015 Collegiate Baseball, D1Baseball and Perfect Game Freshman of the Year, and 2015 NCBWA Freshman All-America.
"Brendan McKay is a unique individual in college baseball as a two-position player, excelling nationally as both a pitcher and first baseman," said Howser Trophy committee chair David Feaster. "He is a proven leader and exceptional student-athlete throughout his career at Louisville and has carried the Cardinals to the cusp of the 2017 NCAA baseball championship. And he certainly embodies the Dick Howser traits of excellent performance on the field, leadership, moral character, and courage."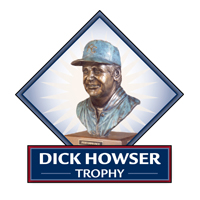 McKay joined as 2017 Howser Trophy finalists pitcher J.B. Bukauskas of North Carolina, Mississippi State first baseman Brent Rooker and Oregon State pitcher Jake Thompson on an elite list of top candidates.
On June 11, he became the fourth player selected in the 2017 Major League Baseball Draft, going to the Tampa Bay Rays. That marked the highest that a University of Louisville player has been selected.
A Florida native, Howser was twice an All-America shortstop at Florida State (1957-58), then head coach of the Seminoles in 1979 after a career as a Major League player and coach. After one year in the college ranks, he returned to the majors to manage the New York Yankees and Kansas City Royals and won the World Series with the Royals in 1985. The baseball stadium on the Florida State campus is named for Howser.
NCBWA membership includes writers, broadcasters and publicists. Designed to promote and publicize college baseball, it is the sport's only college media-related organization, founded in 1962.
The Howser Trophy was created in 1987 shortly after Howser's death. Previous winners of the Howser Trophy are Mike Fiore, Miami, Fla., 1987; Robin Ventura, Oklahoma State, 1988; Scott Bryant, Texas, 1989; Alex Fernandez, Miami-Dade Community College South, 1990; Frank Rodriguez, Howard College (Texas), 1991; Brooks Kieschnick, Texas, 1992 and 1993; Jason Varitek, Georgia Tech, 1994; Todd Helton, Tennessee, 1995; Kris Benson, Clemson, 1996; J. D. Drew, Florida State, 1997; Eddy Furniss, LSU, 1998; Jason Jennings, Baylor, 1999; Mark Teixeira, Georgia Tech, 2000; Mark Prior, P, USC, 2001, Khalil Greene, SS, Clemson, 2002; Rickie Weeks, 2B, Southern U., 2003; Jered Weaver, P, Long Beach State, 2004; Alex Gordon, 3B, Nebraska, 2005; Brad Lincoln, P/DH, Houston, 2006; David Price, P, Vanderbilt, 2007; Buster Posey, C, Florida State, 2008; Stephen Strasburg, P, San Diego State, 2009; Anthony Rendon, 3B, Rice, 2010; Taylor Jungmann, P, Texas, 2011; Mike Zunino, C, Florida, 2012; Kris Bryant, 3B, San Diego, 2013; A.J. Reed, Kentucky, 2014; Andrew Benintendi, Arkansas, 2015; and Seth Beer, Clemson, 2016.
2017 Dick Howser Trophy:
• Thu., May 18: Dick Howser Trophy semifinalists announced
• Thu., June 1: The Game Headwear to sponsor Dick Howser Trophy
• Thu., June 8: Dick Howser Trophy finalists announced
• Sat., June 17: Dick Howser Trophy presented at College World Series
Related links:
• More on the Dick Howser Trophy