OMAHA (NCBWA) – UCLA's Holden Powell was named the 2019 Stopper of the Year by the National Collegiate Baseball Writers Association on Saturday at TD Ameritrade Park, becoming the second Bruin to capture the award since its inception in 2005, joining two-time winner David Berg (2013, 2015).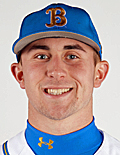 Powell
An All-America First-Team selection by the NCBWA and a Pac-12 All-Conference performer as a sophomore, Powell boasted a 1.84 ERA with a 4-3 record and notched 17 saves. His save total was second, both in the nation this year and in the all-time UCLA single-season record book, trailing only the NCAA-record 24 by Berg in 2013.
The Visalia, Calif., native had a 20-inning streak without allowing an earned run from March 22 to May 5 and surrendered just four earned runs in his last 28 outings dating back to March 18. He lowered his ERA from 4.76 to 1.84 during that span, and has 65 strikeouts in just 49 innings. In all, he allowed just 12 runs (10 earned) while appearing in 40 games, third-most in the country.
The remaining finalists for the Stopper of the Year Award included Garrett Acton (Illinois), Tyler Brown (Vanderbilt), Kyle Hill (Baylor), Aaron Ochsenbein (Eastern Kentucky) and Jacob Wallace (Connecticut) – all of which earned NCBWA All-America honors in 2019.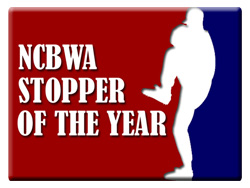 Texas hurler J. Brent Cox won the inaugural Stopper of the Year Award in 2005, with Don Czyz of Kansas claiming the honor in 2006 and Luke Prihoda of Sam Houston State winning it in 2007. Georgia's Joshua Fields topped the field in 2008, San Diego State's Addison Reed grabbed the honor in 2009 and Texas' Chance Ruffin earned the honor in 2010. The Longhorns' Corey Knebel won in 2011, with Southeastern Louisiana's Stefan Lopez picking up the honor in 2012. UCLA's David Berg was crowned the winner in 2013, Louisville's Nick Burdi took home the 2014 honor and Berg became the award's first two-time winner in 2015. Miami (Fla.)'s Bryan Garcia was honored as the 2016 recipient followed by Louisville's Lincoln Henzman in 2017 and Florida's Michael Byrne last year.

The NCBWA, founded in 1962, presents the Dick Howser Trophy to the nation's top player. It also selects All-America Teams for all Divisions, a Division I Freshman All-American team, Division I, II and III Players of the Week and Division I, II and III Players of the Year.

2019 NCBWA Stopper of the Year key dates:
• Mon., Feb. 11: Preseason Watch List
• Wed., April 24: Midseason Watch List
• Thu., June 6: Stopper of the Year finalists announced
• Sat., June 15: Stopper of the Year winner announced