GREEENVILLE, N.C. (NCBWA) – Arkansas' Kevin Kopps was named the 2021 Stopper of the Year by the National Collegiate Baseball Writers Association (NCBWA), the organization announced Thursday, becoming the first Razorback to capture the award since the award's inception in 2005.
A consensus All-America First-Team selection, the Dick Howser Trophy winner, Southeastern Conference Pitcher of the Year and Collegiate Baseball magazine National Player of the Year, Kopps had a part in 23 of Arkansas 50 wins in 2021, posting a 12-1 record with 11 saves. The right-hander surrendered nine runs (all earned) on 50 hits, posting an 0.90 ERA, which leads the country, heading into the College World Series. He struck out 131 batters, while walking just 18 in 89 2/3 innings and held opposing hitters to a .162 com­posite batting average and paced the Razorbacks to a No. 1 national ranking throughout the regular season and the No. 1 overall seed in the NCAA Baseball Championship.
Kopps currently ranks among the national leaders (Top 20) in nine statistical categories including ERA (first), WHIP (first/0.76), wins (third), appearances (fifth/33), strikeouts (seventh), hits per 9 innings (ninth/5.02), saves (10th), K to BB ratio (11th/7.28) and Ks per 9 innings (16th/13.15).
The remaining finalists for the Stopper of the Year Award included: Blake Bales (Virginia), Taylor Broadway (Ole Miss), Haylen Green (TCU), Zach Grech (Stanford), Nick Jones (Georgia Southern), Jake Mulholland (Oregon State), Carson Palmquist (Miami, Fla.), Landon Sims (Mississippi State) and Vince Vannelle (Ari­zona).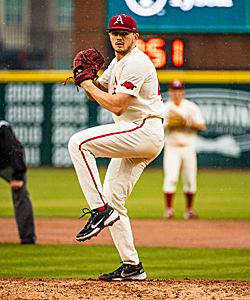 Kevin Kopps

Kopps joins a standout list of previous NCBWA Stoppers of the Year: Texas' J. Brent Cox, 2005; Kansas' Don Czyz, 2006; Luke Prihoda of Sam Houston State, 2007; Georgia's Joshua Fields, 2008; San Diego State's Addison Reed, 2009; Texas' Chance Ruffi, 2010; Texas' Corey Knebel, 2011; Southeastern Louisi­ana's Stefan Lopez, 2012; UCLA's David Berg, 2013 and 2015; Louisville's Nick Burdi, 2014; Miami (Fla.)'s Bryan Garcia, 2016; Louisville's Lincoln Henzman, 2017; Florida's Michael Byrne, 2018; and UCLA's Hold­en Powell in 2019. There was no winner in 2020 due to the COVID-19-shortened season.

The NCBWA, founded in 1962, presents the Dick Howser Trophy presented by The Game Headwear to the nation's top player and the Mike Martin National Coach of the Year to the nation's top coach. It also selects All-America Teams for all divisions, a Division I Freshman All-American team, Division I, II and III Players of the Week and Division I, II and III Players of the Year.

2021 NCBWA Stopper of the Year key dates:
• Fri., Feb. 19: Preseason Watch List
• Wed., April 28: Midseason Watch List
• Wed., June 9: Stopper of the Year finalists announced
• Fri., June 18: Stopper of the Year winner announced