DALLAS (NCBWA) – Thirty players have been named to the watch list for the second annual National Collegiate Baseball Writers Association Stopper of the Year Award, the association announced Wednesday. The award will be given to the top relief pitcher in Division I college baseball.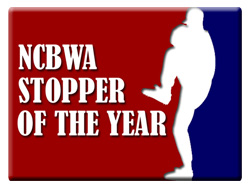 Of the 30 pitchers who make up the initial 2006 watch list, 21 were ranked among the nation's Top 50 in saves at the end of the 2005 season, including Daniel Best of Southern Miss – one of five finalists for the Inaugural Stopper of the Year Award in 2005.
Nebraska's Brent Jensen returns to the Huskers after posting 16 saves and helping his squad to Omaha – he had the most saves last season of any pitcher on the watch list. Tyler Chambliss of Florida State returns with 15 from '05, while Casey Lambert (Virginia), Kevin Gunderson (Oregon State) and Paul Koss (USC) each tallied 14. A total of 14 pitchers that appear on the 2006 watch list finished last season with 10 or more saves.
The 2006 watch list represents 13 conferences, led by five players from the Atlantic Coast, and four from the Big 12. The Conference USA, Missouri Valley, Pac-10, and Southeastern each have three players represented, while the Atlantic 10 and Big West both have two players representing their leagues. The Atlantic Sun, Big Ten, Big East, Northeast, and Patriot each have one player.
2006 NCBWA STOPPER OF THE YEAR WATCH LIST
Pitcher
School
Cl.
Hometown
Daniel Best
Southern Miss
Sr.
Ruston, La.
Gerard Breslin
La Salle
Jr.
Havertown, Pa.
Tyler Chambliss
Florida State
Jr.
Live Oak, Fla.
Bryce Cox
Rice
Sr.
Carrollton, Texas
Don Czyz
Kansas
Sr.
Overland Park, Kan.
Milan Dinga
Army
Jr.
Tampa, Fla.
Blair Erickson
UC Irvine
Jr.
Fair Oaks, Calif.
Kevin Gunderson (L)
Oregon State
Jr.
Portland, Ore.
Brian Halford
Louisville
Sr.
Louisville, Ky.
Jonathan Hovis
North Carolina
Sr.
Gastonia, N.C.
Brett Jensen
Nebraska
Sr.
Eagle Grove, Iowa
Paul Koss
USC
Jr.
Orange, Calif.
Casey Lambert (L)
Virginia
Jr.
Harrisonburg, Va.
Ryan LaMotta
Baylor
Sr.
Sugarland, Texas
Daniel Latham
Tulane
Jr.
Covington, La.
Mike McBryde
Florida Atlantic
Jr.
N. Palm Beach, Fla.
Mark Melancon
Arizona
Jr.
Golden, Colo.
Rory Meister
Ohio State
So.
Mansfield, Ohio
Mark Murray
Evansville
Jr.
Evansville, Ind.
Darren O'Day
Florida
Sr.
Jacksonville, Fla.
Vinnie Pestano
Cal State Fullerton
Jr.
Anaheim Hills, Calif.
Chris Perez
Miami (Fla.)
Jr.
Holmes Beach, Fla.
Scott Reese
Creighton
Jr.
Portland, Ore.
Steve Richard
Clemson
Jr.
Billerica, Mass.
David Robertson
Alabama
So.
Tuscaloosa, Ala.
Will Savage
Oklahoma
Sr.
West Hills, Calif.
Kevin Schneider
Monmouth
Sr.
Lawrenceville, N.J.
Damon Sublett
Wichita State
So.
Wichita, Kan.
Eric Walker
UNC Charlotte
Sr.
Clemmons, N.C.
Sean Watson
Tennessee
Jr.
Miami, Fla.
(L) indicates left-handed pitcher
"We were very pleased with the publicity and excitement this award generated in its first year of existence," said NCBWA President Todd Lamb, Assistant Athletics Communications Director at The Ohio State University. "Relief pitching is an area that is often overlooked and underappreciated in the college game, so we are looking to build upon last year's success, and continue to generate some recognition for the nation's outstanding relief pitchers."

Nominations were made by each school's baseball sports information contact. A mid-season release, including the national saves leaders, will be updated during the week of April 17. At the end the regular season, the Division I leader in saves and four other relief pitching standouts will be selected as the award's finalists. These finalists will be released on Wednesday, May 31, just prior to the beginning of NCAA regional play.

From the list of finalists, the NCBWA's All-America Committee will select a winner. The 2nd annual winner will be announced on Wednesday, June 7, two days prior to the beginning of NCAA super regional action.

The NCBWA, founded in 1962, presents the Dick Howser Trophy to the nation's top player. It also selects a Division I All-America Team, Division I and III Players of the Week, Division I District Players of the Year and Division III Players of the Year.

For more information on the NCBWA Stopper of the Year, contact Dave Fanucchi at USA Baseball at 919-474-8721 (Ext. 210) or Russ Anderson at Conference USA at 214-774-1351.

2006 NCBWA Stopper of the Year key dates:
• Thurs., Feb. 2: Watch List announced
• Wed., April 19: Midseason Watch List announced
• Thurs., June 1: Stopper of the Year finalists announced
• Thurs., June 8: NCBWA Stopper of the Year announced