DALLAS (NCBWA) – Five finalists have been named for the second annual National Collegiate Baseball Writers Association Stopper of the Year Award, the association announced Thursday.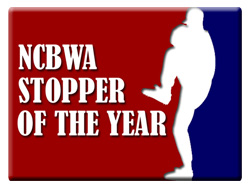 The finalists for the award that will recognize the top relief pitcher in college baseball include NCAA saves leader Don Czyz from Kansas, Kevin Gunderson from Oregon State, Josh Fields from Georgia, Vinnie Pestano from Cal State Fullerton and Cole St. Clair from Rice. All five pitchers helped their teams reach the NCAA Tournament, which begins Friday at Regional sites across the nation.
Czyz leads the nation with 18 saves heading into the NCAA tournament this weekend and was an automatic finalist. The senior righty from Overland Park, KS helped lead the Jayhawks to their first ever Big 12 Tournament Championship while posting a 1.62 ERA and six victories. The Jayhawks (42-23) will be in action Friday when they take on Hawaii (43-14) in the first round of the Corvalis Regional.
Gunderson – a left-handed junior from Portland, Oregon – will be in action Friday in Corvallis as well, when the Beavers (39-14) face Wright State (32-25). Gunderson is 2-2 on the year with a 2.54 ERA and is tied for second in the nation with 15 saves.
Fields (Hull, Ga.) helped lead Georgia (41-19) to a #7 National ranking and a host site Regional in Athens, where they will meet Sacred Heart (26-28). Fields is 3-2 with a 1.69 ERA and 14 saves in 27 appearances. He struck out 49 batters in 42.2.
Pestano (Anaheim Hills, Calif.) and his Titans (43-14) will welcome Fresno State, San Diego and Saint Louis to Goodwin Field and will play the Billikins (32-27) Friday when the Fullerton Regional gets underway. Pestano is 2-1 this season with 13 saves and a 0.97 ERA. He has 43 strikeouts in 37 innings.
St. Clair and the Owls (50-10) will host the Houston Regional after reaching the No. 1 ranking in America. Rice will be joined by Arizona State, Baylor and Prairie View, as the Owls will square off against Prairie View on Friday. The standout sophomore from Santa Ana, Calif., has come out of the Owls' bullpen to earn 10 saves, compile a 5-2 record and maintain a 1.59 ERA in 62.1 innings of work.
2006 NCBWA STOPPER OF THE YEAR FINALISTS
Name, School, Cl.
W-L
SV
ERA
G
IP
H
BB
SO
Don Czyz Kansas, Sr.
6-0
18
1.35
29
61.0
48
14
59
Josh Fields Georgia, Jr.
3-2
14
1.69
29
42.2
30
7
49
Kevin Gunderson Oregon State, Jr.
2-2
15
2.54
29
39.0
30
15
39
Vinnie Pestano CSU Fullerton, Jr.
2-1
13
0.97
29
37.0
19
14
43
Cole St. Clair Rice, So.
5-2
10
1.59
32
62.1
29
23
88
More than 35 players were considered for the award. The winner will be announced on Wednesday, June 7, two days prior to the beginning of NCAA super regional action.

The NCBWA, founded in 1962, presents the Dick Howser Trophy to the nation's top player. It also selects a Division I All-America Team, Division I and III Players of the Week, Division I District Players of the Year and Division III Players of the Year.

For more information on the NCBWA Stopper of the Year, contact Dave Fanucchi at sports.tv or Russ Anderson at Conference USA at 214-774-1351.

2006 NCBWA Stopper of the Year key dates:
• Thurs., Feb. 2: Watch List announced
• Wed., April 19: Midseason Watch List announced
• Thurs., June 1: Stopper of the Year finalists announced
• Thurs., June 8: NCBWA Stopper of the Year announced