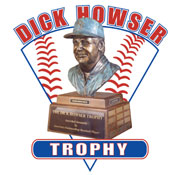 DALLAS (NCBWA) – The National Collegiate Baseball Writers Association, working in conjunction with the St. Petersburg Area Chamber of Commerce and the College Baseball Foundation, has released the list of 16 semifinalists for the 2009 Dick Howser Trophy, given to the top player in collegiate baseball.
The membership of the NCBWA will choose the winner of the Dick Howser Trophy based on two rounds of national voting. Three 2009 finalists will be announced just prior to the first game of the College World Series with a press conference slated for Saturday, June 13, at 9:30 a.m. (CDT) at the Omaha Press Club in the old First National Bank Building. The winner will be named in a national broadcast from Lubbock, Texas, on Thursday, July 2.
The 16 candidates hail from nine different conferences and 16 different schools. The Southeastern Conference paces the pack with three semifinalists. Nine different positions afield, including four pitchers, join one designated hitter and a utility player among this diversified group.
2009 DICK HOWSER TROPHY SEMIFINALISTS
1B Dustin Ackley, North Carolina
OF Kent Matthes, Alabama
DH Matt Alexander, Air Force
2B Derek McCallum, Minnesota
P Kyle Bellamy, Miami
3B Tommy Mendonca, Fresno State
3B Troy Channing, St. Mary's
P A.J. Morris, Kansas State
1B Cody Hawn, Tennessee
1B Rich Poythress, Georgia
C Chris Henderson, George Mason
UT Brooks Raley, Texas A&M
P Mike Leake, Arizona State
3B Anthony Rendon, Rice
SS Bryan Marquez, New Mexico State
P Stephen Strasburg, San Diego State
The Dick Howser Trophy, given in memory of the former Florida State University All-America shortstop and major league player and manager who died of brain cancer in 1987, is regarded by many as college baseball's most prestigious award.
Criteria for consideration for the trophy include performance on the field, leadership, moral character and courage, qualities that were exemplified by Dick Howser's life.
A Florida native, Howser was twice an All-America shortstop at Florida State University (1957-58), then coached the Seminoles in 1979 after a career as a major league player and coach. After one year in the college ranks, Howser returned to the majors to manage the New York Yankees and Kansas City Royals and won the World Series with the Royals in 1985. The baseball stadium on the Florida State campus is named for Howser.
The winner's name is inscribed on the permanent trophy, a bronze bust of Howser displayed at Tropicana Field in St. Petersburg - home of the defending American League champion Tampa Bay Rays and the 1999 NCAA Men's Basketball Final Four – along with several other locations. Both the winner and his school receive a special trophy to keep.
NCBWA membership includes writers, broadcasters and publicists. Designed to promote and publicize college baseball, it is the sport's only college media-related organization, founded in 1962.
The College Baseball Foundation was established in 2004 and has inducted 47 greats into the College Baseball Hall of Fame in Lubbock. The group promotes the highest ideals and recognition of greatness on college baseball diamonds in the 150 years since the first intercollegiate contest in 1859 between Amherst and Williams.
The groups also have come together in 2009 to select the Dick Howser Trophy, Brooks Wallace Award (Division I Shortstop of the Year), NCBWA Stopper of the Year, CBF Pitcher of the Year, and NCBWA National Coach of the Year. The Pro-Line Athletic/NCBWA All-America and Freshman All-America teams, the NCBWA Freshman Player and Pitcher of the Year also are being presented by these national entities.
The Howser Trophy was created in 1987, shortly after Howser's death. Previous winners of the Howser Trophy are Mike Fiore, Miami, 1987; Robin Ventura, Oklahoma State, 1988; Scott Bryant, Texas, 1989; Alex Fernandez, Miami-Dade Community College South, 1990; Frank Rodriguez, Howard College (Texas), 1991; Brooks Kieschnick, Texas, 1992 and 1993; Jason Varitek, Georgia Tech, 1994; Todd Helton, Tennessee, 1995; Kris Benson, Clemson, 1996; J. D. Drew, Florida State, 1997; Eddy Furniss, LSU, 1998; Jason Jennings, Baylor, 1999; Mark Teixeira, Georgia Tech, 2000; Mark Prior, P, USC, 2001, Khalil Greene, SS, Clemson, 2002; Rickey Weeks, 2B, Southern U., 2003; Jered Weaver, P, Long Beach State, 2004; Alex Gordon, 3B, Nebraska, 2005; Brad Lincoln, P/DH, Houston, 2006; David Price, P, Vanderbilt, 2007 and Buster Posey, C, Florida State.
2009 Dick Howser Trophy:
• May 15: Dick Howser Trophy semifinalists announced
• June 13: Dick Howser Trophy finalists announced
• July 2: Dick Howser Trophy Winner announced on the College Baseball Awards Show
Related links:
• More on the Dick Howser Trophy
• Official site (dickhowsertrophy.com)