LUBBOCK, Texas (NCBWA) – San Diego State's dominant right-handed pitcher Stephen Strasburg is the recipient of the 23rd annual Dick Howser Trophy as college baseball's player of the year. The presentation was made Thursday for the first time In Lubbock, Texas, as part of the festivities to recognize and induct the College Baseball Hall of Fame and the awarding of several other national honors for 2009.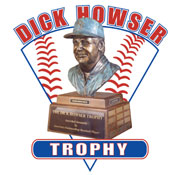 Strasburg had one of the finest single season pitching performances in 2009 as a junior right-hander for Major League Baseball Hall of Fame coach Tony Gwynn's Aztecs. The San Diego, Calif., resident was the national leader in strikeouts with 195 and No. 2 in NCAA Division I with a 1.32 ERA and hits allowed per nine innings with 5.37 to compliment a 13-1 overall record. The 2008 USA Baseball Player of the Year for all divisions, Strasburg was the first selection in the 2009 Major League Baseball free agent draft by the Washington Nationals in June.
Also a finalist for the prestigious Golden Spikes Award, the SDSU righty was the 2009 College Baseball Foundation Pitcher of the Year and totally dominated the Mountain West Conference in '09. In round-robin league play, he was 7-0 with 111 strikeouts and a 1.50 ERA in eight starts. Overall, Strasburg (two-time MWC Pitcher of the Year as a sophomore and junior) pitched 109 innings in 15 starts, had a pair of complete games, had a hand in four shutouts (two in personal complete games), gave up 65 hits, and walked just 19 hitters in 15 contests. Opponents batted just .172 against the Aztec standout. He finished 2009 pre-NCAA activity without allowing an earned run in 50 of his 52 innings worked.
The two-time consensus All-America also whiffed 180 batters in his first two seasons at San Diego State in 2007 and '08 and was a semifinalist for the 2008 Howser Trophy. Strasburg struck out a SDSU and MWC record 23 hitters against Utah on April 11, 2008, and allowed opposing hitters a composite .136 batting average – shattering the previous MWC season mark by 75 points. He was a relief ace for the Aztecs as a freshman with seven saves.
Strasburg edged out consensus All-America performers and fellow Howser Trophy finalists 1B Dustin Ackley of North Carolina and RHP Mike Leake of Arizona State. A decorated student-athlete throughout his SDSU career with a major in public administration, Strasburg chose the Aztecs over Arizona, Arizona State, UNLV, Stanford, Yale, and Harvard.
The son of Jim Strasburg and Kathleen Swett, who both attended San Diego State, took the Aztecs to their highest finish in the NCAA tournament since the school's most recent NCAA appearance in 1991.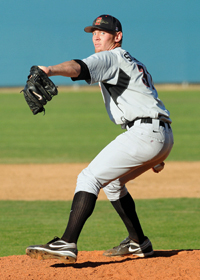 Stephen Strasburg
Ackley, the 2009 Atlantic Coast Conference Player of the Year and a junior from Walnut Cove, N.C., was a consensus 2009 All-America performer. He was the second player chosen in the 2009 draft by the Seattle Mariners and led the NCAA World Series fifth-place Tar Heels with a .417 average, 66 starts for the 48-18 squad, was 111-for-266 at the plate, with 75 runs, 18 doubles, four triples, a team-leading 22 homers, 73 RBIs, slugging percentage of .763 with 203 total bases, and an on-base percentage of .512. He was on all-tournament teams for both the NCAA Chapel Hill Regional and Super Regional and set a NCAA World Series for career hits under head coach Mike Fox.
Leake, the two-time Pacific-10 Conference Pitcher of the Year in 2008 and '09, led the nation in pitching victories with a 16-1 mark with a microscopic earned run average of 1.71 for the national third place Sun Devils. The junior right-hander from Fallbrook, Calif., had seven complete games in 19 starts and was one of the real "workhorses" in college baseball this year with 142 innings pitched. He has tossed two complete-game shutouts and was part of another blanking. The ASU ace for coach Pat Murphy has a 7:1 strikeout-to-walk ratio with 162 whiffs and 24 walks for an average of 10.3 strikeouts every nine innings. Leake surrendered just 27 earned runs and 95 hits (5.4 each nine IP) and was among the Top five in NCAA statistics in wins, strikeouts, innings pitched, and walks per nine innings. He also has batted .303 as a designated hitter in 15 contests with four doubles and four RBIs as a DH. He was 40-6 in three seasons as an all-Pac-10 hurler for the Sun Devils.
Strasburg's other national honors have included the Richard W. "Dick" Case Award from USA Baseball for his exemplary showings for Team USA and the U.S. Olympic baseball squad in Beijing last year. He helped pitch the national team to a first-ever, 24-0 record, the Haarlem Baseball Week title and FISU World University Championship with two victories over Cuba's top professional team. Strasburg led a Team USA's record-setting (composite ERA of 1.94 for the summer) pitching staff at 3-0 with a 1.06 ERA and 48 strikeouts in 34 innings pitched.
He was the only collegian on the '08 U.S. Olympic Team's 25-man roster and was the winning hurler against the Netherlands in pool play. He later started against Cuba in the semifinals and finished Olympic play with a 1-1 mark, 2.45 ERA and 16 strikeouts in 11 innings. He was part of the bronze medal team, which downed fourth-place Japan on the final day of Olympic competition. The junior righty also was USA Baseball's nominee for 2008 USOC Sportsman of the Year.
The St. Petersburg Area Chamber of Commerce, founder and owner of the Dick Howser Trophy, has enjoyed over 100 years of community service since its founding in 1899. The organization has long been a vital force in the baseball affairs of the city, both in spring training and during the pursuit of a major league baseball franchise for the Tampa Bay area, and continues its solid role in the 21st Century. NCBWA membership includes writers, broadcasters and publicists. Designed to promote and publicize college baseball, it is the sport's only college media-related organization, and was founded in 1962.
The Howser Trophy was created in 1987, shortly after Howser's death. Previous winners of the Howser Trophy are Mike Fiore, Miami, 1987; Robin Ventura, Oklahoma State, 1988; Scott Bryant, Texas, 1989; Alex Fernandez, Miami-Dade Community College South, 1990; Frank Rodriguez, Howard College (Texas), 1991; Brooks Kieschnick, Texas, 1992 and 1993; Jason Varitek, Georgia Tech, 1994; Todd Helton, Tennessee, 1995; Kris Benson, Clemson, 1996; J.D. Drew, Florida State, 1997; Eddy Furniss, LSU, 1998; Jason Jennings, Baylor, 1999; Mark Teixeira, Georgia Tech, 2000; Mark Prior, Southern California, 2001; Khalil Greene, Clemson, 2002; Rickie Weeks, Southern, 2003; Jered Weaver, Long Beach State, 2004; Alex Gordon, Nebraska, 2005; Brad Lincoln, Houston, 2006; David Price, Vanderbilt, 2007; and Buster Posey, Florida State, 2008.
For further information about the Howser Trophy, please contact: David Feaster, Chair, Dick Howser Trophy Committee, St. Petersburg (727-528-5177); or Bo Carter, NCBWA Executive Director (214-418-6132).
2009 Dick Howser Trophy:
• May 15: Dick Howser Trophy semifinalists announced
• June 13: Dick Howser Trophy finalists announced
• July 2: Dick Howser Trophy Winner announced on the College Baseball Awards Show
Related links:
• More on the Dick Howser Trophy
• Official site (dickhowsertrophy.com)