DALLAS (NCBWA) – Two of the nation's top pitchers and three All-America position players have been named as finalists for the 2013 Dick Howser Trophy presented by Easton Foundations.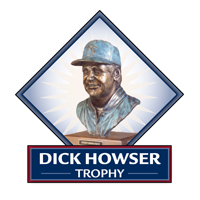 Balloting was conducted by the National Collegiate Baseball Writers Association, in conjunction with the College Baseball Foundation, the Dick Howser Trophy committee and the St. Petersburg Area Chamber of Commerce.
San Diego outfielder Kris Bryant, Vanderbilt second baseman Tony Kemp, North Carolina third baseman Colin Moran, and pitchers Tyler Beede of Vanderbilt and Mark Appel of Stanford are the elite fivesome for the 27th annual Howser Trophy ceremonies.
The winner will be announced Saturday, June 15, at a 10 a.m. (CDT) national news conference at TD Ameritrade Park – the third-year home of the 67th annual Division I NCAA World Series.
Each finalist also represents the ideals of character, leadership, desire, and competitive spirit exhibited by Dick Howser, the All-America shortstop and later head coach at Florida State, before managing the Kansas City Royals to the world championship in 1985. He also is the namesake for Dick Howser Stadium at FSU.
Bryant, a junior from Las Vegas, Nev., led the nation in virtually every power hitting category in 2013. The two-time All-West Coast Conference selection and consensus '13 All-America choice has 31 home runs - 10 more than current runner-up Ryan Kinsella of Elon – in 62 contests to top NCAA individuals. The Toreros' standout also paces DI in runs with 80 (1.3 per game), bases-on-balls with 66 and slugging percentage at .820 (187 total bases in 228 at-bats). He helped USD, under coach Rich Hill, to advance the deepest of any WCC team in '13 NCAA play with a second-place showing in the Los Angeles Regional hosted by winner UCLA.
Kemp, a junior from Nashville, Tenn., has led the Southeastern Conference much of the season in batting average and enters the NCAA Nashville Super Regional with a team-best .398 mark. Compared with previous Dick Howser Trophy winner second baseman Rickie Weeks of Southern University, the swift infielder led Vanderbilt to a school-best 26-3 SEC mark and 54 wins in its first 64 outings. He enters the week tied for second nationally in hits with 102 and has helped VU generate runs with 64 runs and a team-high 32 stolen bases for coach Tim Corbin's crew.
Moran, a junior from Rye, N.Y., stands atop all DI participants with 85 RBI and aided UNC to the No. 1 seed and Chapel Hill Regional and Super Regionals. He has batted .351 with 13 home runs and 69 runs for the 2013 Tar Heels, the Atlantic Coast Conference champions under coach Mike Fox. Moran has added consensus All-America laurels to his resume' for the second year in succession and is 2013 ACC Hitter of the Year.
Beede, a sophomore from Auburn, Mass., enters NCAA Super Regional competition with a nation-topping 14-0 record, 16 games started as the Commodores' ace, 101 strikeouts, a 2.20 earned run average, .177 opponents' batting average, Southeastern Conference Pitcher of the Year, and All-America laurels.
Appel, a senior from Houston, Texas, took the educational route and returned to Stanford for a successful final campaign. That moved paid dividends for the big rigthmader as he won almost a third of the Cardinal's 32 team victories at 10-4 to complement a 2.12 ERA and 1300 strikeouts in 106.1 innings of work for coach Mark Marquess' 2013 squad.
Voting for the Dick Howser Trophy has been conducted by the NCBWA membership since 1999 after the American Baseball Coaches Association selected the recipient from 1987-1998. The NCBWA also selects the Stopper of the Year, the Division I National Coach of the Year and National Freshman Hitter and Pitcher of the Year, along with NCAA Division II and III All-America teams, Players and Coaches of the Year.
The Howser Trophy was created in 1987, shortly after Howser's death. Previous winners of the Howser Trophy are Mike Fiore, Miami, 1987; Robin Ventura, Oklahoma State, 1988; Scott Bryant, Texas, 1989; Alex Fernandez, Miami-Dade Community College South, 1990; Frank Rodriguez, Howard College (Texas), 1991; Brooks Kieschnick, Texas, 1992 and 1993; Jason Varitek, Georgia Tech, 1994; Todd Helton, Tennessee, 1995; Kris Benson, Clemson, 1996; J. D. Drew, Florida State, 1997; Eddy Furniss, LSU, 1998; Jason Jennings, P, Baylor, 1999; Mark Teixeira, 1B, Georgia Tech, 2000; Mark Prior, P, USC, 2001; Khalil Greene, SS, Clemson, 2002; Rickey Weeks, 2B, Southern U., 2003; Jered Weaver, P, Long Beach State, 2004; Alex Gordon, 3B, Nebraska, 2005; Brad Lincoln, P, Houston, 2006; David Price, P, Vanderbilt, 2007; Buster Posey, C, Florida State, 2008; Stephen Strasburg, P, San Diego State, 2009; Anthony Rendon, 3B, Rice, 2010; Taylor Jungmann, P, Texas, 2011; and Mike Zunino, C, Florida, 2012.
2013 Dick Howser Trophy:
• Thu., May 16: Dick Howser Trophy semifinalists announced
• Thu., June 6: Dick Howser Trophy finalists announced
• Sat., June 15: Dick Howser Trophy winner announced
Related links:
• More on the Dick Howser Trophy