OMAHA, Neb. (NCBWA) – San Diego junior third baseman Kris Bryant is the 27th recipient of the Dick Howser Trophy, presented by Easton Foundations, as college baseball's Player of the Year. The presentation was made Saturday morning as part of a news conference at TD Ameritrade Park, site of the 2013 College World Series.
The Dick Howser Trophy, given in memory of the former Florida State University All-America shortstop and Major League player and manager who died of brain cancer in 1987, is regarded by many as college baseball's most prestigious award. Criteria for consideration for the trophy include performance on the field, leadership, moral character, and courage, qualities which were exemplified by Dick Howser's life.
Bryant is the first Torero alumnus to win the Dick Howser Trophy in a group represented by 21 different schools and 14 conferences since its inception in 1987 with Miami (Fla.) standout Mike Fiore. He is the first West Coast Conference Howser Trophy honoree and first National Player of the Year in NCAA Division I athletics for the University of San Diego.
The sterling junior led NCAA Division I in home runs (31, 10 more than the individual runner-up), runs with 80, total bases with 187, and slugging percentage at .820 while helping USD roll to a 37-25 overall record and second place in the NCAA Los Angeles Regional behind World Series-bound UCLA.
The consensus All-America infielder from Las Vegas, Nev., paced the WCC in virtually every power hitting category as well and was 2013 WCC Co-Player of the Year. He also was the second player chosen overall in the 2013 Major League Baseball Free Agent draft by the Chicago Cubs on June 6.
Bryant has been one of the most honored student-athletes in baseball in San Diego history and carries a cumulative 3.1 grade point average. Besides being Academic All-WCC, he is a previous NCBWA Freshman All-America in 2011 and All-WCC on the field from 2011-13 for Coach Rich Hill's Toreros.
"Kris Bryant definitely has all the traits of an All-America college student-athlete and the qualities of Dick Howser - ability, leadership, character, and courage," said Dick Howser Trophy chair David Feaster of the St. Petersburg Area Chamber of Commerce. "His performance on the field speaks for itself, and he is another very fine representative from a tremendous university and traditional baseball power."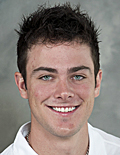 Bryant
The 6-5, 215-pound junior led San Diego in batting as a sophomore in 2012 as well with a .366 average, 14 homers, 57 RBI, and .671 slugging percentage, while reaching base in 53 of the team's 57 games. He was a third team All-America and also stole nine bases.
In '11, Bryant was named WCC Co-Player and Co-Freshman of the Year, first team consensus Freshman All-America and All-WCC Freshman Team. He batted .365 with nine homers, 36 RBI, a team-best 57 runs and a career-best 18 stolen bases in 21 attempts. He also was a consensus High School All-America in 2010 at Las Vegas' Bonanza High School. He graduated from BHS with a 4.78 grade point average (5.0 average).
He edged a group of five 2013 Howser Trophy finalists including North Carolina's Colin Moran, Vanderbilt's Tyler Beede and Tony Kemp, and Stanford's Mark Appel for the top honor.
A Florida native, Howser was twice an All-America shortstop at Florida State (1957-58), then head coach of the Seminoles in 1979 after a career as a Major League player and coach. After one year in the college ranks, he returned to the majors to manage the New York Yankees and Kansas City Royals and won the World Series with the Royals in 1985. The baseball stadium on the Florida State campus is named for Howser.
NCBWA membership includes writers, broadcasters and publicists. Designed to promote and publicize college baseball, it is the sport's only college media-related organization, founded in 1962.
The Howser Trophy was created in 1987, shortly after Howser's death. Previous winners of the Howser Trophy are Mike Fiore, Miami, 1987; Robin Ventura, Oklahoma State, 1988; Scott Bryant, Texas, 1989; Alex Fernandez, Miami-Dade Community College South, 1990; Frank Rodriguez, Howard College (Texas), 1991; Brooks Kieschnick, Texas, 1992 and 1993; Jason Varitek, Georgia Tech, 1994; Todd Helton, Tennessee, 1995; Kris Benson, Clemson, 1996; J. D. Drew, Florida State, 1997; Eddy Furniss, LSU, 1998; Jason Jennings, Baylor, 1999; Mark Teixeira, Georgia Tech, 2000; Mark Prior, P, USC, 2001, Khalil Greene, SS, Clemson, 2002; Rickey Weeks, 2B, Southern U., 2003; Jered Weaver, P, Long Beach State, 2004; Alex Gordon, 3B, Nebraska, 2005; Brad Lincoln, P/DH, Houston, 2006; David Price, P, Vanderbilt, 2007; Buster Posey, C, Florida State, 2008; Stephen Strasburg, P, San Diego State, 2009; Anthony Rendon, 3B, Rice, 2010; Taylor Jungmann, P, Texas, 2011; Mike Zunino, C, Florida, 2012 and Kris Bryant, 3B, San Diego, 2013.
2013 Dick Howser Trophy:
• Thu., May 16: Dick Howser Trophy semifinalists announced
• Thu., June 6: Dick Howser Trophy finalists announced
• Sat., June 15: Dick Howser Trophy winner announced
Related links:
• More on the Dick Howser Trophy