OMAHA, Neb. (NCBWA) - Three of the first four and four of the top No. 11 picks in the Major League Baseball draft, along with the NCAA strikeout leader, are the finalists for the 33rd annual Dick Howser Trophy presented by The Game Headwear, in balloting by the National Collegiate Baseball Writers Association in conjunction with the Dick Howser Trophy committee and the St. Petersburg Area Chamber of Commerce.
Vanderbilt outfielder JJ Bleday (4th pick), West Virginia starting pitcher Alek Manoah (11th pick), Oregon State catcher Adley Rutschman (1st pick), Navy starting pitcher Noah Song (NCAA strikeout leader/4th-round pick) and Cal first baseman Andrew Vaughn (3rd pick) are the five finalists for the prestigious 33rd-annual awarding of the Howser Trophy.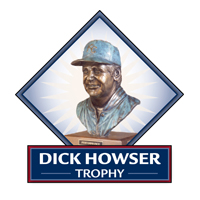 The winner will be announced on Saturday, June 15, at a 10 a.m. (CDT) national news conference at TD Ameritrade Park – home of the 73rd-annual NCAA College World Series.
Each finalist embodies the major principles of character, leadership, desire and competitive spirit exhibited by Dick Howser, the All-America shortstop, head coach at Florida State and manager of the 1985 World Series Champion - Kansas City Royals. He also is the namesake of FSU's Dick Howser Stadium.
Bleday, who was the fourth overall selection in the first round of the MLB Draft by the Miami Marlins, was the Southeastern Conference Player of the Year and the SEC Tournament Most Valuable Player, after helping lead the Commodores to their first conference regular-season championship since 2013, first league tournament title since 2017 and eighth NCAA Super Regional appearance in the last 10 seasons.
The Panama City, Florida native started all 62 games and hit .353 with 13 doubles, one triple, a nation-leading 26 home runs, 68 RBI, 52 walks, 75 runs and 85 hits. An All-America First-Team selection by Collegiate Baseball is No. 2 in the nation in total bases (178), No. 6 in runs scored (75), No. 10 in slugging percentage (.739), No. 19 in RBI (68), No. 22 in walks (52) and No. 29 in hits (85).
Bleday leads the SEC in home runs, total bases and slugging percentage and is No. 2 in runs, RBI and on-base percentage (.467), No. 3 in walks, No. 4 in batting average, No. 5 in hits per game (1.37) and No. 7 in runs.
Manoah, who was the No. 11 selection by the Toronto Blue Jays, was the second Mountaineer ever to be picked in the first round. The Big 12 Conference Pitcher of the Year was the fourth first team All-American in program history (Collegiate Baseball) and a finalist for the National Pitcher of the Year by the College Baseball Foundation.
The Miami, Florida, native had one of the most dominating seasons in Mountaineer history, finishing with a 9-4 record and a 2.08 ERA in 108.1 innings pitched. He struck out a school-record 144 batters, walked only 27, had a 0.91 WHIP and opponents only hit .190 against him.
A semifinalist for the Golden Spikes Award, Manoah was the first player in Big 12 history to be named Pitcher of the Week three consecutive weeks and the fourth to earn weekly honors four times in a season. An All-Big 12 First Team honoree, he broke the single-season school record for strikeouts, with 144, and tied the WVU record for starts, with 16. He finished the year No. 3 in strikeout-to-walk ratio (5.33/1), tied for sixth in wins (9) and shutouts (2) and was No. 9 in strikeouts per nine innings (11.96). He led the Big 12 Conference in strikeouts, ERA and shutouts, tied for No. 2 in wins and tied for third in complete games (2).
In the national statistical rankings, Manoah is ranked No. 5 nationally in strikeouts (144), No. 12 in starts (16), No. 13 in WHIP (0.90), No. 22 in hits allowed per nine innings (5.90), No. 28 in wins (9), No. 28 in ERA (2.08), No. 29 in strikeouts per nine innings, No. 36 in strikeout-to-walk ratio (5.33) and No. 37 in complete games (2).
Rutschman, the first overall pick in the MLB draft by the Baltimore Orioles, was the 12th Oregon State player to go in the first round, the ninth since 2005 and fifth since 2017. The Sherwood, Oregon, native was named the 2019 Pac-12 Conference Player of the Year and the co-recipient of the league's Defensive Player of the Year honor. Collegiate Baseball named him its National Player of the Year last week and he is a finalist for the Golden Spikes Award and a semifinalist for the Buster Posey Award, given to the nation's top catcher.
Rutschman capped his junior season by batting .411 with 17 home runs, 58 runs batted in and a school-record 76 walks. He posted a .575 on-base percentage, which leads the nation, and a .751 slugging percentage. He leads the nation in on-base percentage (.575) and walks (76), is No. 5 in batting average, No. 6 in slugging percentage (.751) and No. 26 in home runs. He leads the Pac-12 in batting average, walks, on-base percentage and slugging percentage.
Rutschman ranks in the top 10 in just about every offensive category in the Oregon State record books. He is first in walks (156), second in runs batted in (174), third with 151 runs and 358 total bases, tied for fifth in hits (227) and home runs (28), ninth in slugging percentage (.561), 10th in batting average (.352) and tied for 10th in doubles (39).
Song, who was selected in the school-best fourth round of the MLB draft by the Boston Red Sox, is the 10th pick in Navy baseball history and first since Luke Gillingham was selected in the 37th round of the 2016 draft by the Toronto Blue Jays.
Song was named the 2019 Patriot League Pitcher of the Year and was a First-Team All-Patriot League selection for the second straight season. In his four years, he has broken the Patriot League record for most Pitcher of the Week honors in a career after earning the award 10 times. The senior also has been selected as the National Player of the Week on five different occasions in 2019 and seven times in his career.
The Claremont, California, native led the nation with 161 strikeouts and compiled a 1.44 ERA, ranking No. 6 nationally. He posted a strikeouts-per-nine innings mark of 15.41 this season, which is the best in NCAA Division I since 2009 and is tied for sixth all-time in Division I history. Song also posted a record of 11-1 this year, and his 11 wins are tied for third-most in the country. In 14 starts during the 2019 campaign, Song allowed the opposition to hit just .171 and he ranks second in the country in complete games (6), seventh in hits allowed per nine innings (5.27) and 14th in WHIP (0.91).
On the national level, Song has been selected as a finalist for the National Pitcher of the Year. He also became the program's first player to earn First Team All-America honors after garnering the recognition by Collegiate Baseball.
In his four years at Navy, Song has rewritten the program record books. This season, he broke the career record for wins (32), strikeouts (428) and innings pitched (334.1) and tied the record for the most shutouts, with nine. All four records were previously set in 1961 by Chuck Davis. Along with breaking nearly six-decade-old career records, Song broke the single-season record for strikeouts, which Davis set in 1960, with 161 this season. Song also has moved into the top-15 for career ERA, at 2.37, which is the lowest ERA in program history in the last 30 years. He also is second in strikeouts per nine innings in his career, at 11.52.
Vaughn, the third overall pick in the MLB Draft by the Chicago White Sox, was named All-Pac 12 First Team for the third straight year. He earned the Pac-12 Player of the Year Award in 2018 as a sophomore and was Cal's first player to be named the winner of the Golden Spikes Award, given to the nation's top amateur player.
The Santa Rosa, California native hit .381 with 14 doubles, 15 home runs, 59 walks and 50 RBI. He had a .544 on-base percentage and a .716 slugging percentage, earning Collegiate Baseball All-America Second Team honors. He is No. 2 nationally in walks per game (1.15), No. 3 in on-base percentage and No. 18 in slugging percentage.
Vaughn ranks second in the Pac-12 Conference in walks and on-base percentage, No. 4 in batting average and slugging percentage, No. 7 in home runs, No. 10 in total bases, No. 11 in RBI and No. 12 in runs per game.
Recent finalists for the Dick Howser Trophy have included the likes of Florida starting pitcher Brady Singer (2018 winner), Texas second baseman Kody Clemens, Auburn pitcher Casey Mize, Georgia Tech catcher Joey Bart, Clemson outfielder Seth Beer (2016 winner, first freshman to receive Dick Howser Trophy), Wake Forest third baseman Will Craig, Louisville utility player Brendan McKay (2017 winner), Kent State pitcher Eric Lauer, and Texas A&M third baseman Boomer White, Arkansas outfielder Andrew Benintendi (2015 winner), UCLA relief pitcher David Berg, Vanderbilt starting pitcher Carson Fulmer, Vanderbilt shortstop Dansby Swanson and Miami (Fla.) third baseman David Thompson.
The Howser Trophy was created in 1987, shortly after Howser's death. Previous winners of the Howser Trophy are Mike Fiore, Miami, 1987; Robin Ventura, Oklahoma State, 1988; Scott Bryant, Texas, 1989; Alex Fernandez, Miami-Dade Community College South, 1990; Frank Rodriguez, Howard College (Texas), 1991; Brooks Kieschnick, Texas, 1992 and 1993; Jason Varitek, Georgia Tech, 1994; Todd Helton, Tennessee, 1995; Kris Benson, Clemson, 1996; J. D. Drew, Florida State, 1997; Eddy Furniss, LSU, 1998; Jason Jennings, Baylor, 1999; Mark Teixeira, Georgia Tech, 2000; Mark Prior, P, USC, 2001, Khalil Greene, SS, Clemson, 2002; Rickie Weeks, 2B, Southern U., 2003; Jered Weaver, P, Long Beach State, 2004; Alex Gordon, 3B, Nebraska, 2005; Brad Lincoln, P/DH, Houston, 2006; David Price, P, Vanderbilt, 2007; Buster Posey, C, Florida State, 2008; Stephen Strasburg, P, San Diego State, 2009; Anthony Rendon, 3B, Rice, 2010; Taylor Jungmann, P, Texas, 2011; Mike Zunino, C, Florida, 2012; Kris Bryant, 3B, San Diego, 2013; A.J. Reed, Kentucky, 2014; Andrew Benintendi, Arkansas, 2015; Seth Beer, Clemson, 2016; Brendan McKay, Louisville, 2017 and Brady Singer, Florida, 2018.
2019 Dick Howser Trophy:
• Thu., May 16: Dick Howser Trophy semifinalists announced
• Thu., June 6: Dick Howser Trophy finalists announced
• Sat., June 15: Dick Howser Trophy presented at College World Series
Related links:
• More on the Dick Howser Trophy