OMAHA, Neb. (NCBWA) – Catcher Adley Rutschman of Oregon State is the 33rd recipient of the Dick Howser Trophy, presented by The Game Headwear, as college baseball's Player of the Year.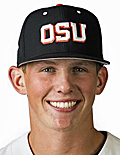 Rutschman
The announcement came at a national news conference Saturday morning at TD Ameritrade Stadium as OSU's first winner of the prestigious award met with a group of national media. He is the first Beavers player honored with the Howser Trophy, which originated in 1987.
Rutschman also is the fourth recipient to be the first overall selection in the Major League Baseball free agent draft and capture the award, joining Clemson pitcher Kris Benson (1996), Vanderbilt pitcher David Price (2007) and San Diego State pitcher Steve Strasburg (2008). Rutchsman was selected by the Baltimore Orioles as the opening player in last week's draft.
The 2019 consensus first team All-America choice was honored in voting by the Howser Trophy committee and the National Collegiate Baseball Writers Association. He is the second all-time winner from the Pac-12 Conference after Mark Prior of Southern California captured the 2001 honor.
Rutschman, a 6-2, 216-pound switch-hitting and righty throwing junior catcher from Sherwood, Ore., also was the 2019 Pac-12 Player of the Year, the Pac-12 Defensive Player of the Year, and a finalist for the Buster Posey Award, which honors the nation's top catcher in 2019 and is named in honor of the 2008 Dick Howser Trophy recipient. Rutschman also earned unanimous first team All-America laurels as well as National Player of the Year honors from every college baseball entity.
He led the Beavers and is fifth nationally with a .411 batting average to go along with an impressive .575 on-base percentage (tops in NCAA Division I), 17 home runs, 58 RBIs and a .751 slugging percentage – also all among the top five individually in Pac-12 statistics. He was so solid at the plate that he drew a school-record 76 bases-on-balls, many intentionally.
The first No. 1 overall selection in Oregon State baseball history, he also is a finalist for the Golden Spikes Award and the Buster Posey Award, which honors the nation's top catcher in 2019 and the 2008 Dick Howser Trophy recipient.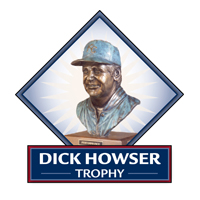 The Sherwood, Ore., native also led Oregon State to the NCAA championship in 2018 with a .408 batting average, .628 slugging percentage, nine homers, team- and Pac-12-best 83 RBI, and a .987 fielding percentage with 626 total chances for a 55-12-1 team under retired, three-time NCAA title-winning head coach Pat Casey. OSU has made three consecutive appearances in NCAA Regionals behind his solid offense. The 2018 CWS Most Outstanding Player set a NCAA record with 17 hits in Omaha and also drove in 13 runs.
Rutschman also is one of a handful of Dick Howser Trophy winners to have played two sports in college. He was a freshman placekicker in 2016 and later devoted his full energies to the diamond. That football expertise may have been hereditary from his grandfather Ad Rutschman who coached football and baseball at Linfield College in Hillsboro, Ore., and was 183-48-3 from 1967-91 as LC's head football coach and a member of the National Football Foundation College Hall of Fame with a trio of NAIA national football crowns in the 1980s.
The three-year starter ended his OSU stint from 2017-19 with a .352 batting average over 183 games, 28 home runs and 174 RBI, along with a .561 career slugging percentage. He joins 2000 Dick Howser Trophy winner Mark Teixeira of Georgia Tech as one of the top switch hitters in collegiate diamond annals.
"Adley Rutschman certainly is deserving of the 2019 Dick Howser Trophy," said Howser Trophy committee chair David Feaster. "He embodies all the characteristics required for this trophy - leadership, moral character and courage – besides his tremendous performance on the field. He has been a solid leader for one of the most respected baseball programs nationally."
Rutschman was flanked by an impressive list of 2019 finalists for the trophy among the final five after extensive two-round national balloting by the NCBWA. The other four finalists were Vanderbilt OF JJ Bleday, West Virginia SP Alek Manoah, Navy SP Noah Song, and California 1B Andrew Vaughn.
A Florida native, Dick Howser was twice an All-America shortstop at Florida State (1957-58), then head coach of the Seminoles in 1979 after a career as a Major League player and coach. After one year in the college ranks, he returned to the majors to manage the New York Yankees and Kansas City Royals and won the World Series with the Royals in 1985. The baseball stadium on the Florida State campus is named for Howser.
NCBWA membership includes writers, broadcasters and publicists. Designed to promote and publicize college baseball, it is the sport's only college media-related organization, founded in 1962. The NCBWA has been the voting mechanism for the Howser Trophy annually since 1998.
The Howser Trophy was created in 1987 shortly after Howser's death. Previous winners of the Howser Trophy are Mike Fiore, Miami, Fla., 1987; Robin Ventura, Oklahoma State, 1988; Scott Bryant, Texas, 1989; Alex Fernandez, Miami-Dade Community College South, 1990; Frank Rodriguez, Howard College (Texas), 1991; Brooks Kieschnick, Texas, 1992 and 1993; Jason Varitek, Georgia Tech, 1994; Todd Helton, Tennessee, 1995; Kris Benson, Clemson, 1996; J. D. Drew, Florida State, 1997; Eddy Furniss, LSU, 1998; Jason Jennings, Baylor, 1999; Mark Teixeira, Georgia Tech, 2000; Mark Prior, P, USC, 2001; Khalil Greene, SS, Clemson, 2002; Rickie Weeks, 2B, Southern U., 2003; Jered Weaver, P, Long Beach State, 2004; Alex Gordon, 3B, Nebraska, 2005; Brad Lincoln, P/DH, Houston, 2006; David Price, P, Vanderbilt, 2007; Buster Posey, C, Florida State, 2008; Stephen Strasburg, P, San Diego State, 2009; Anthony Rendon, 3B, Rice, 2010; Taylor Jungmann, P, Texas, 2011; Mike Zunino, C, Florida, 2012; Kris Bryant, 3B, San Diego, 2013; A.J. Reed, Kentucky, 2014; Andrew Benintendi, Arkansas, 2015; Seth Beer, Clemson, 2016; Brendan McKay, Louisville, 2017; and Brady Singer, Florida, 2018.
2019 Dick Howser Trophy:
• Thu., May 16: Dick Howser Trophy semifinalists announced
• Thu., June 6: Dick Howser Trophy finalists announced
• Sat., June 15: Dick Howser Trophy presented at College World Series
Related links:
• More on the Dick Howser Trophy