ST. LOUIS (USBWA) – The U.S. Basketball Writers Association's Oscar Robertson Trophy, awarded annually to the national college basketball player of the year, will be presented during the NCAA Final Four weekend at a breakfast April 1 at the Missouri Athletic Club in downtown St. Louis.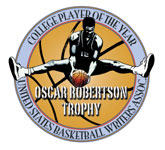 The Robertson Trophy, named after whom many consider the greatest college basketball player ever, is selected in voting by members of the USBWA. Established in 1959, it is the nation's oldest college basketball player of the year award.
Robertson was a three-time player of the year from 1958-60 at the University of Cincinnati and was the first player in NCAA history to lead the nation in scoring for three straight seasons.
He later went on to play 14 seasons in the NBA, was selected to 12 NBA all-star teams and played on the 1971 NBA world championship team with the Milwaukee Bucks.
This year, the Oscar Robertson Trophy has taken on an entirely new look.
World-renowned St. Louis sculptor Harry Weber, who sculpted several Cardinal Hall of Fame bronze statues at Busch Stadium, has been commissioned to produce an 18-inch bronze sculpture of Oscar Robertson in his famous spread-eagle pose while jumping in the air to rebound a basketball. A replica of the statue will be awarded to the player of the year at the breakfast.
This year's breakfast will also be the first of a yearly event to present the player of the year trophy during the NCAA Final Four in the host city where the national championship tournament is held.
In addition to the Oscar Robertson Trophy, the Henry Iba Award will be presented to the national college coach of the year. The Iba Award is named after legendary Oklahoma A&M and U.S. Olympic team coach Henry who led A&M to back-to-back national championships in 1945 and '46.
Tickets for the breakfast, scheduled to start at 8 a.m., are $65 each and are available at the MAC (314-231-7220) and DeSmet High School (314-567-3500).
A portion of the proceeds will be donated to the National Kidney Foundation, Oscar Robertson's charity of choice. Oscar donated a kidney several years ago to his daughter who was suffering from a life-threatening kidney disease.
Related links:
• Oscar Robertson Trophy
• Missouri Athletic Club
• Oscar Robertson official site (www.thebigo.com)
• National Kidney Foundation