ST. LOUIS (USBWA) – Three backcourt mates from Illinois and teammates from both Duke and North Carolina headline the list of 16 finalists for the 2005 Oscar Robertson Trophy, the player of the year award presented by the U.S. Basketball Writers Association.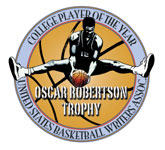 The three-guard combination of Dee Brown, Luther Head and Deron Williams has led Illinois to the top of the national rankings and a Big Ten title. Duke's J.J. Redick and Shelden Williams helped the Blue Devils to a 15-0 start and a their ninth straight season of double-digit wins in ACC play. And, Sean May and Rashad McCants of North Carolina have paced the Tar Heels to their most wins and best conference record since 2000-01.
Nine more players have been selected as finalists for the award that has been presented since the 1958-59 season. Following is the complete list of 2005 Oscar Robertson Trophy finalists:
2005 OSCAR ROBERTSON TROPHY FINALISTS
Player, School
Pos.
Ht.
Wt.
Cl.
Hometown
Andrew Bogut, Utah
C/F
7-0
240
So.
Melbourne, Australia
Dee Brown, Illinois
G
6-0
185
Jr.
Maywood, Ill.
Travis Diener, Marquette
G
6-1
175
Sr.
Fond du Lac, Wis.
Ike Diogu, Arizona St.
F/C
6-8
250
Jr.
Garland, Texas
Francisco Garcia, Louisville
F
6-7
190
Jr.
The Bronx, N.Y.
Joey Graham, Oklahoma St.
F
6-7
225
Sr.
Brandon, Fla.
Luther Head, Illinois
G
6-3
185
Sr.
Chicago, Ill.
Sean May, N. Carolina
F/C
6-9
266
Jr.
Bloomington, Ind.
Rashad McCants, N. Carolina
F/G
6-4
207
Jr.
Asheville, N.C.
Chris Paul, Wake Forest
G
6-0
175
So.
Lewisville, N.C.
J.J. Redick, Duke
G
6-4
190
Jr.
Roanoke, Va.
Wayne Simien, Kansas
F
6-9
255
Sr.
Leavenworth, Kan.
Salim Stoudamire, Arizona
G
6-1
179
Sr.
Portland, Ore.
Hakim Warrick, Syracuse
F
6-8
219
Sr.
Wynnewood, Pa.
Deron Williams, Illinois
G
6-3
210
Jr.
The Colony, Texas
Shelden Williams, Duke
F
6-9
250
Jr.
Forest Park, Okla.
The winner will be selected by a vote of the USBWA membership and announced at a breakfast ceremony on Fri., April 1 at the Missouri Athletic Club in downtown St. Louis.
World-renowned sculptor Harry Weber, who sculpted several St. Louis Cardinals Hall of Fame bronze statues at Busch Stadium, has been commissioned to produce an 18-inch bronze sculpture of Oscar Robertson in his famous spread-eagle pose while jumping in the air to rebound a basketball. A replica of the statue will be awarded to the player of the year at the breakfast.
This year's breakfast will also be the first of a yearly event to present the player of the year trophy during the NCAA Final Four in the host city where the national championship tournament is held.
In addition to the Oscar Robertson Trophy, the Henry Iba Award will be presented to the national college coach of the year. The Iba Award is named after legendary Oklahoma A&M and U.S. Olympic team coach Henry who led A&M to back-to-back national championships in 1945 and '46.
Tickets for the breakfast, scheduled to start at 8 a.m., are $65 each and are available at the MAC (314-231-7220) and DeSmet High School (314-567-3500).
A portion of the proceeds will be donated to the National Kidney Foundation, Oscar Robertson's charity of choice. Oscar donated a kidney several years ago to his daughter who was suffering from a life-threatening kidney disease.
Related links:
• Oscar Robertson Trophy
• Missouri Athletic Club
• Oscar Robertson official site (www.thebigo.com)
• National Kidney Foundation