ST. LOUIS (USBWA) – Retiring coaches Gene Keady of Purdue and Lou Henson of New Mexico State will join Illinois head coach Bruce Weber in being honored by the U.S. Basketball Writers Association at a breakfast at the downtown Missouri Athletic Club on April 1 to announce the national college basketball player of the year.
Keady and Henson will receive special awards from the Basketball Writers for their years of service in the coaching profession and cooperation with the media during their careers.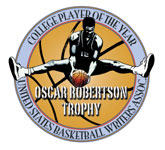 Keady is retiring after 25 years at Purdue and 26 years as an NCAA Division I head coach. Henson announced his retirement at New Mexico State earlier this season after 38 years as a major college coach, including 21 seasons at Illinois, where he remains the all-time winningest coach.
Weber, earlier in the week, was selected by the Basketball Writers to receive the Henry Iba Coach of the Year Award. Weber guided Illinois (32-1) to the Big Ten Conference regular-season and tournament championships and the top seed in the NCAA tournament.
The Oscar Robertson Trophy will be presented to the college player of the year, as selected by the USBWA. The trophy is a bronze sculpture of Robertson by St. Louis sculptor Harry Weber. The statue was molded from the famous picture showing Robertson rebounding with his legs spread-eagled.
The awards breakfast will start at 8 a.m. with the program immediately following at 8:30. Tickets are $65 and are available at the MAC (314-231-7220 or at the front desk) and DeSmet High School (Bob Steiner, basketball coach, at 314-567-3500). A portion of the proceeds will be donated to the National Kidney Foundation, Oscar Robertson's charity of choice.
For more information or to inquire about sponsorship opportunities, contact William Mathis at MathisJones Communications by phone (636-938-1100 or 314-805-1102) or by e-mail (info@mathisjones.com).
Related links:
• Oscar Robertson Trophy
• Missouri Athletic Club
• Oscar Robertson official site (www.thebigo.com)
• National Kidney Foundation