ST. LOUIS (USBWA) – Utah sophomore center Andrew Bogut was named the winner of the 2005 Oscar Robertson Trophy as the national player of the year at a breakfast Friday at the Missouri Athletic Club.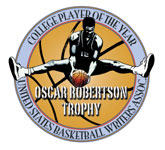 Former University of Cincinnati All-American and basketball Hall of Famer Oscar Robertson presented the trophy on behalf of the U.S. Basketball Writers Association. The USBWA has chosen a player of the year each year since 1959 and named the award for Robertson in 1998.
Bogut paid tribute to Robertson in accepting the award. "He's one of the best players of all time," Bogut said. "It's something I will remember all my life."
The trophy is a bronze sculpture of Robertson by St. Louis sculptor Harry Weber. The statue was molded from the famous picture showing Robertson rebounding with his legs spread-eagled.
The 7-0, 240-pound Melbourne, Australia, native averaged 20.4 points and 12.2 rebounds this season while shooting 62.0 percent from the field. He led Utah to a 29-6 season and the Mountain West Conference regular-season title before losing to Kentucky in the third round of the NCAA Tournament.
"He is one of the special, special people I have ever met," Utah coach Ray Giacoletti said. "Basketball needs players, needs people like him."
Also honored at the event was Illinois coach Bruce Weber, who received the association's Henry Iba Award as the national coach of the year. Weber led Illinois to its best season in 100 years of basketball at the school, including both the Big Ten regular-season and conference tournament championships. Weber's Illini have since advanced to the Final Four and are set to battle Louisville on Saturday.
Related links:
• Oscar Robertson Trophy
• Missouri Athletic Club
• Oscar Robertson official site (www.thebigo.com)
• National Kidney Foundation