ST. LOUIS (USBWA) – The U.S. Basketball Writers Association has selected North Carolina's Roy Williams as national coach of the year and the Tar Heels' Tyler Hansbrough freshman of the year.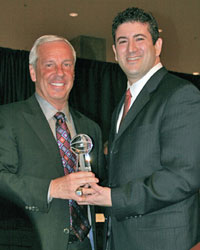 North Carolina coach Roy Williams and USBWA vice-president Andy Katz with the Henry Iba Award.
Williams, in his third season at North Carolina, rebuilt a Tar Heel club that lost all five starters and the top seven scorers from last year's national championship team. Williams, with two freshmen and two former walk-ons in the starting line-up, led the Tar Heels into the NCAA tournament as a No. 3 seed before losing to George Mason in the second round of the Washington D.C. Regional.
North Carolina finished the season with a 23-8 record, a No. 10 national ranking in the final Associated Press poll after being unranked in the preseason and a second place finish in the Atlantic Coast Conference after being picked to finish sixth in the preseason in the ACC.
This is the second time in his career that Williams has been named coach of the year by the Basketball Writers and is the first coach in the 50-year history of the USBWA to receive the honors at two different programs. He was selected coach of the year at Kansas in 1990.
The USBWA will present Williams with the association's Henry Iba Coach of the Year Award at a breakfast on Friday, March 31 at Conseco Fieldhouse Entry Pavilion.
The Basketball Writers will also present the Oscar Robertson Trophy to the national player of the year at the breakfast and honor the 1976 and 1981 Indiana University national championship teams on the 30th and 25th anniversaries respectively of winning the NCAA title.
The 6-9, 235-pound Hansbrough, from Poplar Bluff, Mo., averaged 18.9 points and 7.8 rebounds for North Carolina to become the first North Carolina freshman to lead the Tar Heels in both categories.
Hansbrough led all freshmen in the nation with a .570 field goal shooting percentage and was the first freshman to be a unanimous all-Atlantic Coast Conference first-team selection.
The U.S. Basketball Writers Association was formed in 1956 at the urging of then-NCAA Executive Director Walter Byers. Today, it is one of the most influential organizations in college basketball. It has selected a national player of the year since the 1958-59 season. For more information on the USBWA, contact executive director Joe Mitch and 314-421-0339.