ST. LOUIS (USBWA) – For the first time in the 50-year history of the United States Basketball Writers Association, the USBWA has selected co-players of the year in college basketball.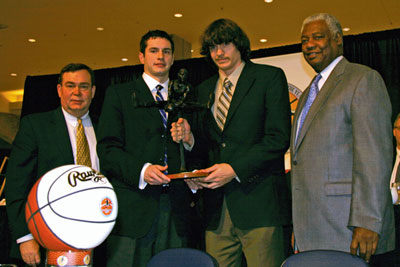 USBWA President and 2006 Oscar Robertson Trophy winners, J.J. Redick and Adam Morrison pose with the trophy and the 'Big O' himself.
Adam Morrison of Gonzaga and J.J. Redick of Duke, the nation's top two NCAA Division I scorers, will be presented with the Oscar Robertson Player of the Year Trophy during a college basketball awards ceremony at Conseco Fieldhouse Friday (March 31) in Indianapolis, site of this year's NCAA Final Four.
"About once in a generation, we see a situation where there are two extraordinary players who separate themselves from the rest of college basketball and clearly stand together as the best in the game," said USBWA President Tony Barnhart of the Atlanta Journal-Constitution.
"It happened in 1979 with Larry Bird and Magic Johnson and the USBWA feels it has happened again with Adam Morrison and J.J. Redick. Our organization has never voted for co-players of the year but on this, the 50th anniversary of the USBWA, it seems entirely appropriate to break with precedent in order to honor two equally deserving young men."
Morrison, a 6-8 junior forward, led the nation in scoring with a 28.4 average while Redick, a 6-4 senior guard, finished second at 27.8 points per game. Both were unanimous selections to the USBWA All-America team.
The USBWA player of the year award is the nation's oldest and only one named after a player. The legendary Oscar Robertson, selected as college player of the century in 2000, was the USBWA's first player of the year in 1959. The USBWA renamed its award the Oscar Robertson Trophy in 1998.
The U.S. Basketball Writers Association was formed in 1956 at the urging of then-NCAA Executive Director Walter Byers. Today, it is one of the most influential organizations in college basketball. For more information on the USBWA and the Oscar Robertson Trophy, contact executive director Joe Mitch at 314-795-6821.
Satellite Coordinates:
For those media who supply content to their websites, the USBWA will have edited B-roll digital video of the Oscar Robertson Trophy presentation breakfast available via satellite from 12:30-1 p.m. EST on Friday, March 31. Following is the access information:
• Destination: AMC 5K/13
• Arc Position: 79 Degrees West Transponder 13 Vertical Polarity
• Frequency: 12096
• Time: 12:30-1 p.m. EST 3/31/06
Related links:
• Oscar Robertson Trophy
• Oscar Robertson official site (www.thebigo.com)
• National Kidney Foundation