ST. LOUIS (USBWA) – First-year Drake University Coach Keno Davis, who guided the Bulldogs to the school's first NCAA tournament berth and first Missouri Valley Conference championship in 37 years, has been selected winner of the Henry Iba Coach of the Year Award by the U.S. Basketball Writers Association.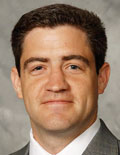 Davis
Davis, 36, engineered Drake to a surprise regular season MVC championship, its first since 1971, and the school's first-ever MVC tournament championship.
Drake won 21 straight games at one point, en route to a school-record 28-4 record entering the NCAA tournament. The Bulldogs were nationally-ranked for eight straight weeks in both the AP and USA Today/ESPN Coaches polls during the regular season.
Drake enters NCAA tournament play this week as a No. 5 seed in the NCAA West Region and plays No. 12 Western Kentucky Friday in Tampa.
Davis, who succeeded his father, Dr. Tom Davis, as head coach of the Bulldogs this season, inherited a team that lost four starters from a year ago and was picked to finish ninth in the 10-team Missouri Valley. The Bulldogs became the lowest pre-season pick ever to win the league title.
The Henry Iba Award for Davis marks the first time a Drake basketball coach has been named national coach of the year since coaching legend Maury John was honored in 1969 by the USBWA.
Before taking over for his father at Drake, Davis had served as an assistant at Drake since May 2003. He also spent six years as an assistant to former Drake head coach Gary Garner at Southeast Missouri State and as an assistant under Bruce Pearl at Southern Indiana.
Davis will receive the Henry Iba Award at the USBWA's College Basketball Awards breakfast held in conjunction with the NCAA Final Four in San Antonio on Friday, April 4, at Sunset Depot starting at 8 a.m.
The USBWA coach of the year award is named in honor of the legendary Henry Iba, who led Oklahoma A&M to national championships in 1945 and '46. It has been presented since the 1958-59 season.
The U.S. Basketball Writers Association was formed in 1956 at the urging of then-NCAA Executive Director Walter Byers. Today, it is one of the most influential organizations in college basketball. For more information on the USBWA and its awards, contact executive director Joe Mitch at 314-421-0339.
Related link:
• Henry Iba Coach of the Year Award