ST. LOUIS (USBWA) – Tyler Hansbrough, North Carolina's 6-9 junior All-American from Poplar Bluff, Mo., has been chosen winner of the Oscar Robertson Trophy by the U.S. Basketball Writers Association as the nation's top college basketball player for the 2007-08 season.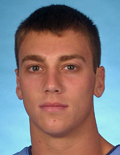 Hansbrough
Hansbrough received the trophy at the USBWA's annual college basketball awards breakfast this morning in San Antonio. Drake coach Keno Davis was presented with the Henry Iba Award as the USBWA's Coach of the Year and LSU-Shreveport's Josh Porter was presented with the USBWA's Most Courageous Award at the breakfast as well.
Selected by the USBWA two years ago as its national freshman of the year, Hansbrough was a dominating force for North Carolina this season, leading the Tar Heels to the NCAA Final Four in San Antonio, a No. 1 ranking in the national polls and a school-record 36 wins.
He was the Atlantic Coast Conference player of the year and led the league in scoring and rebounding with averages of 23.1 and 10.5, respectively.
Hansbrough is the fourth player from North Carolina to receive the USBWA player of the year award. The others are Phil Ford (1978), Michael Jordan (1984) and Antawn Jamison (1998).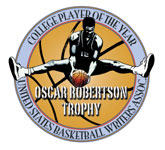 This is the 50th anniversary of the USBWA player of the year award. First presented in 1959 to Oscar Robertson, it is the nation's oldest and only one named after a player.
The USBWA named its player of the year award the Oscar Robertson Trophy in 1998 in honor of "The Big O," named "College Player of the Century" in 2000 by the National Association of Basketball Coaches.
The U.S. Basketball Writers Association was formed in 1956 at the urging of then-NCAA Executive Director Walter Byers. Today, with nearly 800 members, it is one of the most influential organizations in college basketball. For more information on the USBWA and its awards and programs, contact executive director Joe Mitch at 314-795-6821 or 314-421-0339.
Related links:
• Oscar Robertson Trophy
• Oscar Robertson official site (www.thebigo.com)
• National Kidney Foundation