ST. LOUIS (USBWA) – Dan Wolken of The (Memphis) Commercial Appeal has been named the recipient of the U.S. Basketball Writers Association's Rising Star Award, announced today. The award, in its first year, allows the USBWA to recognize top young talent covering the sport of college basketball. Nominees must be USBWA members under the age of 30.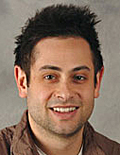 Wolken
"Dan is a most worthy winner among an outstanding group of candidates," said John Akers, the USBWA's Third Vice-President. "Since this is our first Rising Star Award, this group was similar to an inaugural Hall of Fame class."
Wolken has covered the University of Memphis Tigers for The Commercial Appeal since 2006 and also worked for nearly five years at The (Colorado Springs) Gazette on a variety of beats. He chronicled the final three years of the John Calipari era, from its highest highs (the Tigers' 2008 run to the national championship game) to its lowest lows (Memphis vacating 38 victories and its 2008 Final Four by the NCAA Committee on Infractions). Despite the school's campaign to keep its NCAA problems secret, Wolken was the first to report that Memphis was accused of major violations during the 2007-08 season. He also hosts a daily radio show.
In addition to Wolken, three finalists were selected: J. Brady McCollough of The Kansas City Star, Brendan F. Quinn of Basketball Times and Luke Winn of Sports Illustrated. Wolken will receive a plaque at the 2010 USBWA Awards Breakfast, which will be held on Friday, April 2 at The Columbia Club in Indianapolis. The finalists will receive certificates of achievement.
The U.S. Basketball Writers Association was formed in 1956 at the urging of then-NCAA Executive Director Walter Byers. Today, it is one of the most influential organizations in college basketball. It has selected an All-America team since the 1956-57 season. For more information on the Rising Star Award, contact John Akers at 704-849-8627. For more information about the USBWA and its award programs, contact executive director Joe Mitch at 314-421-0339.