ST. LOUIS (USBWA) – Notre Dame's Mike Brey, the Big East Conference Coach of the Year, is the 2011 recipient of the Henry Iba Coach of the Year Award, presented annually to the National Coach of the Year by the U.S. Basketball Writers Association.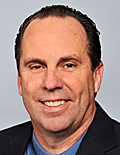 Brey
Despite entering the season unranked, the Fighting Irish rose to as high as No. 4 in the nation in March and earned a No. 2 seed in the NCAA Tournament. Led by second-team USBWA All-American Ben Hansbrough, the Fighting Irish finished the season with a modern-era school record 27 wins, including 25 in the regular season. The No. 2 seed was the school's highest since the 1981 team was also a second seed and Notre Dame's 14 Big East Conference wins tied a school mark.
In his 11th season at Notre Dame, Brey's team accomplished all this after losing leading scorer and USBWA All-American Luke Harangody and a four-year starter at point guard after last season. This season was the third time in the last five seasons that Brey has been selected as the Big East Conference Coach of the Year.
After finishing the season 27-7, Brey now boasts an impressive 238-120 (66.5 winning percentage) overall record at Notre Dame. In 16 seasons as a head coach at Delaware and Notre Dame, the former Duke assistant is now 337-172 (66.2) in his career.
Brey will receive the Henry Iba Award at the USBWA's College Basketball Awards Breakfast held in conjunction with the NCAA Final Four in Houston on Friday, April 1, at the George R. Brown Convention Center at 8 a.m. For tickets to the breakfast, visit the usbwa website, usbwa.com.
The Henry Iba Award is named in honor of the legendary Oklahoma State coach who won 655 games and two national championships in 36 seasons in Stillwater. The award is voted on by all members of the USBWA at the conclusion of the regular season. The USBWA has presented a National Coach of the Year Award each year since the 1958-59 season.
The U.S. Basketball Writers Association was formed in 1956 at the urging of then-NCAA Executive Director Walter Byers. Today, it is one of the most influential organizations in college basketball. For more information on the USBWA and its award programs, contact executive director Joe Mitch at 314-444-3325.
Related link:
• Henry Iba Coach of the Year Award