ST. LOUIS (USBWA) – Oliver Pierce, in his 23rd year as assistant athletics director and sports information director for Gonzaga University, has been named winner of the U.S. Basketball Writers Association's Katha Quinn Award for outstanding service to the media.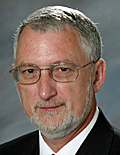 Pierce
The USBWA award is named in memory of former St. John's sports information director Katha Quinn, who passed away from cancer in 1989. Pierce will be honored at the USBWA's annual awards breakfast on April 4 during this year's NCAA Men's Final Four in Houston.
"Oliver has garnered a solid reputation with the media through the years," said USBWA Executive Director Joe Mitch. "He has been there from the beginning in Gonzaga's rise from a respected regional program to one with a consistent national presence. We are pleased to be able to recognize him for all that he has done to help writers cover the Bulldogs."
Gonzaga's growth into a major national program in men's basketball has led directly to expanded media interest, regular national television appearances and dramatically increased demands upon Pierce and the Gonzaga sports information office.
In addition to handling media relations during Gonzaga's current run of 12 straight NCAA men's basketball tournament appearances, Pierce directed the media campaign that led to Adam Morrison sharing the USBWA Oscar Robertson Trophy with Duke's J.J. Redick as national player of the year in 2006.
"As the faces of coach Mark Few and several of the premier players become known to fans across the country, the national media had its trust in Oliver," said Jim O'Connell, former UBSWA president and veteran national college basketball writer for the Associated Press.
"There's no reason why professional service to the media can't be accompanied by a smile, and Oliver managed that while always wearing his light blue Gonzaga shirt."
A native of Spokane, Pierce served as an assistant SID at his alma mater Washington State from 1977-85. He was also a sportswriter for the Tri-City Herald in Kennewick, Wash., and a sports editor for the Idahonian/Daily News in Moscow, Idaho, before joining the Bulldogs in 1989.
"This award will always have a special place in my heart," said Pierce. "It exemplifies what sports information is all about. It's honoring an SID for what an SID is supposed to do."
The U.S. Basketball Writers Association was formed in 1956 at the urging of then-NCAA Executive Director Walter Byers. With some 900 members worldwide, it is one of the most influential organizations in college basketball. For more information on the USBWA and its award programs, contact executive director Joe Mitch at 314-444-4325.
Related link:
• Katha Quinn Award