ST. LOUIS (USBWA) – Baylor's Kim Mulkey is the 2011-12 recipient of the Women's National Coach of the Year Award, presented annually by the U.S. Basketball Writers Association. This marks the second straight season Mulkey has claimed the honor and just the second time it has been won by the same coach in back-to-back seasons. Geno Auriemma, who has won the award four times since its inception in the 1989-90 season, is the only other coach to win the honor in two straight years.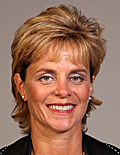 Mulkey
Mulkey, whose Baylor team won the 2005 national championship, is back in the Final Four with a 38-0 team that is on the doorstep of history. No NCAA team has ever finished a season with 40 wins and just six others have finished the season as an undefeated national champion.
The Bears have romped their way through an incredible season as they prepare for their national semifinal matchup with fellow No. 1 seed Stanford. In addition to being the top-ranked team in the Associated Press poll for the entire season, the Big 12 champions have held double-digit leads in 34 of the 38 games and have outscored opponents by more than 27 points this season.
In her 12th season at the Waco, Texas, school, Mulkey has now led the Bears to 11 NCAA tournament appearances, including nine straight. Prior to her arrival at Baylor, the Bears had never been in the NCAA field. Her teams have averaged nearly 28 wins per season as she has posted a 336-79 (.810) career record. In 2005, Mulkey became the first person – man or woman – to win a basketball national championship as a player, assistant coach and head coach.
Mulkey will receive the award at the USBWA's awards breakfast held in conjunction with the NCAA Women's Final Four on Tuesday, April 3 in Denver.
The Women's National Coach of the Year Award is voted on by all members of the USBWA at the conclusion of the regular season. The USBWA has presented a National Coach of the Year Award each year since the 1989-90 season.
The U.S. Basketball Writers Association was formed in 1956 at the urging of then-NCAA Executive Director Walter Byers. Today, it is one of the most influential organizations in college basketball. For more information on the USBWA and its award programs, contact executive director Joe Mitch at 314-444-3325.
All-Time USBWA Coaches of the Year
1990 Tara VanDerveer, Stanford
1991 Debbie Ryan, Virginia
1992 Christine Weller, Maryland
1993 Jim Foster, Vanderbilt
1994 Ceal Barry, Colorado
1995 Geno Auriemma, Connecticut
1996 Leon Barmore, Louisiana Tech
1997 Wendy Lary, Old Dominion
1998 Pat Summitt, Tennessee
1999 Carolyn Peck, Purdue
2000 Andy Landers, Georgia
2001 Muffet McGraw, Notre Dame
2002 Brenda Oldfield, Minnesota
2003 Geno Auriemma, Connecticut
2004 Joe Curl, Houston
2005 Pokey Chatman, LSU
2006 Sylvia Hatchell, North Carolina
2007 Gail Goestenkors, Duke
2008 Geno Auriemma, Connecticut
2009 Geno Auriemma, Connecticut
2010 Connie Yori, Nebraska
2011 Kim Mulkey, Baylor
2012 Kim Mulkey, Baylor
Related link:
• All-time USBWA women's honors