ST. LOUIS (USBWA) – Duke center Elizabeth Williams has been selected as the 2011-12 Women's National Freshman of the Year by the U.S. Basketball Writers Association. The first-year standout from Virginia Beach, Va., led Duke to Atlantic Coast Conference regular-season championship and the Fresno Regional Final in the NCAA Tournament. The Blue Devils were ranked in the Associated Press Top 10 for the entire season.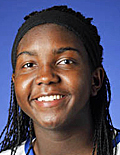 Williams
The All-ACC first-team selection was the conference's defensive player of the year and rookie of the year as she led the Blue Devils (27-6) with 14.0 points, 7.8 rebounds, 3.5 blocks, 1.5 steals and 1.6 assists per game.
Williams became just the third freshman in conference history to be named to the All-ACC first team. She ranks fourth nationally with a 3.5 blocks per game and set the ACC freshman record for blocks in a season with 116. Williams also became the first freshman to be named ACC Defensive Player of the Year. She is now the first ACC player to earn the USBWA's National Freshman of the Year honor.
Williams will be recognized at the USBWA's awards breakfast held in conjunction with the NCAA Women's Final Four on Tuesday, April 3 in Denver.
The Women's National Freshman of the Year Award is voted on by all members of the USBWA at the conclusion of the regular season. The USBWA has presented a National Freshman of the Year Award each year since the 2002-03 season.
The U.S. Basketball Writers Association was formed in 1956 at the urging of then-NCAA Executive Director Walter Byers. Today, it is one of the most influential organizations in college basketball. For more information on the USBWA and its award programs, contact executive director Joe Mitch at 314-444-3325.
All-Time USBWA National Freshmen of the Year
2003 Seimone Augustus, LSU
2004 Tiffany Jackson, Texas
2005 Tasha Humphrey, Georgia; Candice Wiggins, Stanford
2006 Courtney Paris, Oklahoma
2007 Tina Charles, Connecticut
2008 Maya Moore, Connecticut
2009 Shekinna Stricklen, Tennessee
2010 Brittney Griner, Baylor
2011 Odyssey Sims, Baylor
Related link:
• All-time USBWA women's honors