ST. LOUIS (USBWA) – Notre Dame guard Jewell Loyd has been selected as the 2012-13 Women's National Freshman of the Year by the U.S. Basketball Writers Association.The first-year standout from Lincolnwood, Ill., helped lead the Irish to the regular season and Big East tournament titles as well as a third straight appearance in the NCAA Women's Final Four this weekend in New Orleans.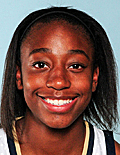 Loyd
Loyd (12.5 points per game) was named Big East Freshman of the Year, the first Notre Dame player in the conference honored with the award since 2002. Loyd has helped the Irish to what is now a school-record 30-game win streak after beating Duke in the Norfolk (Va.) Regional final to advance to New Orleans."
"I'm really happy with the way Jewell has played," said Notre Dame coach Muffet McGraw, whose Irish were ranked second most of the season. "What a phenomenal season for a freshman. She came in with high expectations, and was able to meet those expectations.
"That's a tough thing to be able to do. But probably what I like most is how she's developed at the defensive end — she's such a sponge and wants very much to know what she can do to get better, and that's the sign of a player who has a very bright future ahead of her."
Loyd helped Notre Dame sweep arch-rival Connecticut three times and the Irish will face the Huskies a fourth time Sunday in the national semifinals.
Loyd will be honored before the game at the USBWA Awards Presentation in the New Orleans Sports Arena Sun., April 7, prior to the game with the Huskies.
"Jewell has really added another weapon for us that maybe we haven't had in the past," said two-time USBWA All-American Skylar Diggins. "She's so athletic, she can jump out of the gym, she can shoot the three and she's not afraid to get inside and finish with contact.
"I've been so fortunate to play with her this year and be able to pass along some of what I learned during my career, and hopefully she'll only continue to get better as time goes on."
The Women's National Freshman of the Year Award is voted by all members of the USBWA at the conclusion of the regular season. The USBWA has presented a National Freshman of the Year Award each year since the 1998-99 season.
The U.S. Basketball Writers Association was formed in 1956 at the urging of then-NCAA Executive Director Walter Byers. Today, it is one of the most influential organizations in college basketball. For more information on the USBWA and its award programs, contact executive director Joe Mitch at 314-795-6821.
All-Time USBWA National Freshmen of the Year
1999 Linda Froehlich, UNLV
2000 LaToya Thomas, Mississippi State
2001 Alana Beard, Duke
2002 Jacqueline Batteast, Notre Dame
2003 Seimone Augustus, LSU
2004 Tiffany Jackson, Texas
2005 Tasha Humphrey, Georgia; Candice Wiggins, Stanford
2006 Courtney Paris, Oklahoma
2007 Tina Charles, Connecticut
2008 Maya Moore, Connecticut
2009 Shekinna Stricklen, Tennessee
2010 Brittney Griner, Baylor
2011 Odyssey Sims, Baylor
2012 Elizabeth Williams, Duke
Related link:
• All-time USBWA women's honors