ST. LOUIS (USBWA) – ESPN.com's Myron Medcalf was named the fourth recipient of the U.S. Basketball Writers Association's Rising Star Award, given annually to a member who is under the age of 30 and has shown great promise as a college basketball writer.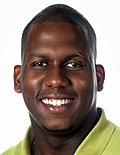 Medcalf
ESPN.com employed Medcalf, 29, in 2010 as a regular contributor through columns, features, live chats, blogs, video and analysis.
Prior to joining ESPN.com, Medcalf spent six seasons at the Minneapolis Star-Tribune covering crime, city politics and the University of Minnesota men's basketball program. He was named Minnesota's AP Young Journalist of the Year in 2006.
Medcalf said it was his experience on non-sports beats that prepared him for a tumultuous 2009-10 season for the Golden Gophers, who lost three players to off-court issues.
"When other young sports writers ask me what they should do to get on a sports-writing path, I always tell them that they should do everything but sports for a time," Medcalf said. "For me (covering the Gophers), I was essentially covering a crime beat. I might not have known where to look for documents I needed if I hadn't had experience as a crime reporter. I had to deal with a lot of people who had nothing to do with basketball – lawyers and judges and victims. Then you had to tell a sports story that wasn't really a sports story."
Medcalf said he made a bold declaration early in his college career at Minnesota State University, Mankato.
"I told people that I wanted to go work for ESPN," Medcalf recalled. "People would kind of look at you crazy, because no one even knows where Mankato is. I didn't go to Michigan or Syracuse or one of those bigger schools. So, how are you going to get there?"
Medcalf started by becoming the first African-American editor-in-chief in the history of his student newspaper, the MSU Reporter. Today, he believes he is the only African-American who is a national college-basketball beat writer.
The significance of his achievements sunk in the first time Medcalf covered a Final Four, in 2010.
"Covering the Final Four with all these other national reporters felt like I had achieved one of the things I'd really set out to accomplish," Medcalf said. "In my family, I'm two generations away from sharecroppers. My mom's dad was chopping wood in a forest in Louisiana. My grandfather was a sharecropper in the South who couldn't read or write.
"And here I am. I'd like to think that's progress."
The U.S. Basketball Writers Association was formed in 1956 at the urging of then-NCAA Executive Director Walter Byers. With some 900 members worldwide, it is one of the most influential organizations in college basketball. It has selected an All-America team since the 1956-57 season. For more information on the USBWA and its award programs, contact executive director Joe Mitch at 314-795-6821.
Related link:
• Rising Star Award