ST. LOUIS (USBWA) – Michigan freshman Austin Hatch, who survived two plane crashes, lost family in both of them and was in a coma for two months with a traumatic brain injury following one crash, has been selected to receive the U.S. Basketball Writers Association's Most Courageous Award for 2015.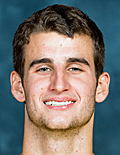 Hatch
The plane crashes occurred in the span of eight years, the first of which claimed the lives of his mother, older sister and younger brother; the second of which took his father and stepmother.
Neither of those tragedies, however, is what makes Hatch courageous. It's because of how he's lived his life since, fighting to overcome both his own physical hardships and emotional challenges, and also embracing his new opportunities.
Rather than be angry at what he's lost, Hatch instead prefers to celebrate what he's been given – a chance to honor his parents by becoming the man they dreamed he would be. Fiercely determined and impossibly positive, Hatch believes he is only beginning to write the story of his life and that the tragedies, while a part of his tale, will one day merely be a footnote.
Hatch was only eight when the first crash happened. He and his father, Dr. Stephen Hatch, were the lone survivors – Austin surviving largely because his father tossed him away from the wreckage. The two forged a new life together afterward, deciding to celebrate their late family members rather than mourn them.
Eventually Stephen Hatch remarried and together with his new wife, Kim, formed a new family, merging Kim's three children with Austin. In June, 2011 the family gathered to celebrate Austin's commitment to the University of Michigan.
Nine days later, came the second crash. Both Stephen and Kim Hatch were killed. Austin survived, but with a traumatic brain injury so severe doctors wondered if he would make it. He spent two months in a coma and many more in intensive rehab, essentially relearning everything.
But every challenge and "can't" that the doctors presented, Austin answered with a "can." By the time he returned to his Fort Wayne, Ind., home in October, he was not just walking; he was climbing the stairs to his second-floor bedroom.
And this past fall, just three years after the crash, he enrolled at the University of Michigan, where Coach John Beilein honored his scholarship. In December he scored his first collegiate point, a free throw against Coppin State.
The lingering effects of the brain injury have slowed Austin's basketball progress some and he's unsure if he ever will be the player he was, but he's not worried. He has bigger goals and new dreams now – to share his story in the hopes that it will help and inspire others and to live the life his parents envisioned for him.
Stephen Hatch challenged Austin to be an uncommon man. He is already well on his way.
Hatch will receive the most courageous award at the USBWA's annual awards function at this year's NCAA Final Four, on Monday, April 6, at a luncheon starting at 12:30 p.m. at the JW Marriott Hotel in Indianapolis.
The U.S. Basketball Writers Association was formed in 1956 at the urging of then-NCAA Executive Director Walter Byers. With some 900 members worldwide, it is one of the most influential organizations in college basketball. It has selected a women's All-America team since the 1996-97 season. For more information on the USBWA and its award programs, contact executive director Joe Mitch at 314-795-6821.
Related link:
• Most Courageous Award