ST. LOUIS (USBWA) – Dave Worlock, who serves as the primary media contact for the NCAA Division I men's basketball championship, has been selected to receive the Katha Quinn Award from the U.S. Basketball Writers Association for service to the media.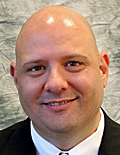 Worlock
Worlock, who has been with the NCAA since 2001, has served as director of media coordination and statistics for the NCAA tournament since 2013. He also oversees a 15-member staff responsible for providing media services and statistics for all of the NCAA's 90 championships.
It is his work at the NCAA Final Four that has brought Worlock praise for his level of cooperation and attention to detail for the many services he provides the media. Among his Final Four duties are coordinating interview schedules, handling credentials for upwards of a thousand members of the media, assigning seats at games and overseeing media hotel reservations.
Worlock was especially helpful communicating to the NCAA Division I men's basketball committee the objections from the media to reduce courtside seats at tournament sites including the Final Four.
"In the midst of trying times for basketball writers, Dave Worlock has been an adamant ally and advocate in the NCAA office," said USBWA President Pat Forde of Yahoo Sports. "He heard our concerns about courtside seating and helped present them to the committee in a way they could understand and identify with. At a time when some in the NCAA didn't want to listen, Dave did. Dave takes great pride in his work with the media. We appreciate his help in trying to maintain our presence in covering the game's signature event."
Worlock has been a readily-available resource to reporters who cover college basketball, especially the NCAA tournament.
"Dave has advocated for members of this organization throughout a decade that has presented more than a few challenges," said Malcolm Moran, a past USBWA president and currently the Director of the Sports Capital Journalism Program at IUPUI. "He has maintained lines of communication, he has listened to our needs and concerns, and he has done his best to help us do our jobs. Katha would have admired his professionalism and unwavering devotion to a changing industry."
Worlock is the fifth administrator from the NCAA to receive the Katha Quinn Award from the USBWA since it was first presented in 1991. The others are Bill Hancock (1999), Jim Marchiony (2004), Greg Shaheen (2013) and Tom Jernstedt (2015).
"I can't begin to tell you how honored I am to receive this award from the USBWA," Worlock said. "This truly is a special recognition that I will always cherish."
The Katha Quinn Award is named in honor of the former St. John's sports information director who passed away in 1989 after a courageous battle with cancer. Worlock will be presented with the award at the USBWA's annual awards luncheon at this year's NCAA Final Four in Houston on April 4.
The U.S. Basketball Writers Association was formed in 1956 at the urging of then-NCAA Executive Director Walter Byers. With some 900 members worldwide, it is one of the most influential organizations in college basketball. It has selected an All-America team since the 1956-57 season. For more information on the USBWA and its award programs, contact executive director Joe Mitch at 314-795-6821.