ST. LOUIS (USBWA) – Mark Skol Jr., a sophomore at the University of Texas at Austin, has been named the winner of a $1,000 scholarship from the United States Basketball Writers Association.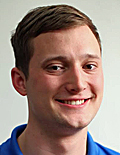 Skol
Skol was selected from a group of more than 50 students that attended "Full Court Press," a sportswriting seminar at the NCAA Final Four. He will receive the Larry Donald Memorial Sportswriting Scholarship, named after the founder and editor of Basketball Times and the only two-time president in USBWA history.
Skol, from Clear Lake, Texas, covers off-season football for The Daily Texan. He also writes about the Chicago Bears for the website Pro Football Spot and covers Texas sports for Texas Student Television. He has covered high school football for KVRX Sports as a play-by-play announcer and analyst and hosts "Mark My Words," a sports talk program.
His involvement with sports journalism began two years ago when he wrote about the Little League All-Star team that included his brother Pete. His goal is to cover sports in Chicago.
Skol's winning entry examined the role played by Syracuse junior Tyler Roberson, who was criticized harshly by Orange coach Jim Boeheim during the season but emerged as an important factor in his team's run to the Final Four.
"Mark looks where other reporters won't or don't," said Kevin Robbins, a Senior Lecturer in the School of Journalism at the University of Texas at Austin. "He didn't go to the stars at Syracuse. Instead, he found Tyler Roberson, a player who knew struggle. Struggle animates sports stories and makes them relatable to all of us. Mark has a sense for that. It's why his work is memorable and lasting."
The competition was organized by the USBWA and the Sports Capital Journalism Program at IUPUI. "Mark's story established a sense of context that was rare among the entries," said Malcolm Moran, the program's director. "His writing and reporting showed an attention to detail and reflected an understanding of the game far beyond the statistics."
The U.S. Basketball Writers Association was formed in 1956 at the urging of then-NCAA Executive Director Walter Byers. With some 900 members worldwide, it is one of the most influential organizations in college basketball. For more information on the USBWA and its award programs, contact executive director Joe Mitch at 314-795-6821.