ST. LOUIS (USBWA) -- The U.S. Basketball Writers Association has taken a pair of unprecedented steps in revealing today the 2017 Pat Summitt Most Courageous Award that will be shared by Appalachian State women's basketball coach Angel Elderkin and ESPN sportscaster Holly Rowe.
"When it came to initially consider a recipient for this year honor, there was a sense of wanting to do something exceptional in the aftermath of the Hall of Fame Tennessee women's coach's passing last June after a nearly five-year battle against Alzheimer's disease," said Mel Greenberg, who is the women's representative on the USBWA board.
"By coincidence in announcing dual honorees for the first time since Summitt's name was placed on the women's award in 2012 that she won, a way has been found to present the plaques in both Summitt's spirit and now also her memory."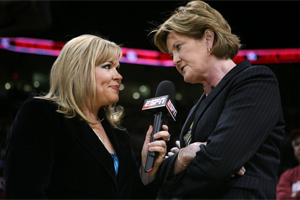 Holly Rowe with Pat Summitt in 2009
Summitt gave a display of her own spirit two years ago when she made a surprise appearance at the mid-November game at Xavier in Cincinnati to help hand the USBWA award in her name to Lauren Hill. The Mount St. Joseph's freshman was honored for her fight against pediatric cancer, which she ultimately lost at the end of that season after inspiring the entire nation in her battle.
When it comes to spirit this season, Angel Elderkin, has continued to guide the Mountaineers from their Boone, N.C., campus, since being diagnosed with Stage III Endometrial (ovarian) cancer for which she revealed last summer.
Elderkin has continued to coach while taking treatments that at times involve trips away from campus to Chapel Hill, N.C.
And when it comes to doing something memorable, Holly Rowe has been very public in battling desmoplastic melanoma while continuing to stay on air doing the job she loves.
Rowe is the first USBWA women's most courageous recipient who is neither an athlete, coach, official or team public relations person. And the Utah graduate is one of a very few winners who did not have a direct connection to a university.
In an interview with USA Today Sports last summer, Rowe talked about gifts received from strangers, " … and when I sent little messages to say thank you to strangers, a woman said, 'Holly you're not a stranger to us. You've been in our living room for years and years,' and I just broke down. It's precious to me that people are that kind and loving."
In also choosing Rowe as a most courageous award recipient, Greenberg noted,"As someone who spent numerous on-air moments with Summitt around her greatest achievements, why not allow Holly to bask in the Lady Vols mentor's reflection while her doing so breaks new ground for us."
Ironically, Elderkin was in Knoxville, Tenn., recently for a game against the Lady Vols, on whose team she once was an assistant under Summitt. On the morning of the game her team set up a private meeting and was able to beam Greenberg from his iPad through FaceTime to surprise her with the news as her traveling party broke into applause.
Rowe was informed by Greenberg earlier this week in advance of the public revelation of her honor, and upon hearing the news, Rowe reacted in an emotional tone, saying, "Wow that is so sweet and wonderful. And it really has special meaning to be cited with something that has Pat Summitt's name associated with it."
"Holly's battle with cancer represents one of many examples of her unwavering courage and relentless approach to tackling life's difficulties," Said LaChina Robinson, an ESPN on-air colleague.
"Throughout her illustrious career, Holly has acted as a role model and inspiration to so many.
"She always asks the hard hitting questions that we the fans need to know, and her firm commitment to treating every person with the same respect and professionalism is something I try and emulate. Her career and life accomplishments are a constant source of encouragement for our youth."
Two other ESPN broadcasting colleagues of Rowe also reacted to word of her honor.
"Anyone who has ever worked with Holly Rowe knows unequivocally she is one of the best teammates at ESPN," said Doris Burke. "Her commitment to pursuing and sharing the stories of the athletes and teams we cover is done with a style that is uniquely Holly.
"The respect she has earned from major college football and basketball coaches, and across all the sports she covers is something to behold. She has battled cancer with the same passion and relentless commitment with which she approaches her job. I am so proud to call her a teammate and colleague."
Rebecca Lobo noted, "Holly Rowe is one of the most upbeat, positive, generous and caring people I know. She is genuinely interested in other people and cares about getting to know them and telling their stories.
"The past year, Holly has faced her cancer diagnosis with courage and an unwavering commitment to stay positive and use her struggles to help others," Lobo continued. "While I didn't think it was possible, she has become even more selfless.
"Holly's courage is a beacon to those who face challenges. She is a truly remarkable woman."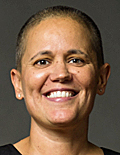 Elderkin
Elderkin's Appalachian State family offered an impressive nomination package from women's basketball sports information director Chase Colliton in the cause of their coach.
In one opening passage, the letter noted, "... Since the season started, she hasn't missed one game. Coach Elderkin coaches every day as she is at her strongest, even if she is feeling her weakest. Often, the players or staff have to corral her back so she doesn't overdo it. This game and her players have been her greatest medicine.
"Coach Elderkin's will to fight, her courage and her bravery resonate with everyone from the staff to the rest of the athletic department and to other coaches across the country."
Said North Carolina women's basketball coach Sylvia Hatchell, who has had her own battles with cancer, "She's a fighter and an example to everyone on how to fight and journey through this hard time. If she wins I know she will use her experience to help others go through difficult times."
Several players also commented in support of Elderkin. "If coach Angel wins this award, I would be so proud to be able to be part of this moment," said senior-forward Ashley Barrett-Smith. I'm so blessed to have her as my head coach and inspiring me every day to push harder and get better no matter what I'm dealing with in my life off the court."
Appalachian State has created a special tribute at the university's website that contains video of her receiving the news and locale reaction from her athletic department family.
Retired women's Hall of Fame Virginia coach Debbie Ryan, in reacting to word of the two Pat Summitt winners, noted in an email, "I cannot think of anyone more deserving of this award than Angel Elderkin.
"Being diagnosed with cancer is a crushing blow to someone who is at the top of her profession. Angel took it head on, faced her fears and mapped out a course that was a model for everyone who will come after her to follow. Her spirit, courage, humility, gratefulness and passion for her players was on display daily through her very long battle.
"There was no doubt in my mind that Angel would set an incredible example for how to face cancer with courage, integrity and character. That is who Angel is in every thing that she undertakes and fighting cancer is no different.
"I am proud of her and so thankful that she is doing well and back with her team. She and Holly Rowe have been warriors in the face of unbelievable adversity and come out on top. Congratulations to both of you! The grace you have shown throughout this ordeal is priceless. Salute!!!"
Both Elderkin and Rowe will receive their awards at the USBWA Awards press conference in the tournament interview room at the NCAA Women's Final Four in Dallas.
During the WNBA finals last fall, former Tennessee star Candace Parker of the champion Los Angeles Sparks indicated she plans to be in Dallas for the finals and if she is she would be glad to help give out the award.
The U.S. Basketball Writers Association was formed in 1956 at the urging of then-NCAA Executive Director Walter Byers. With more than 900 members worldwide, it is one of the most influential organizations in college basketball. It has selected an All-America team since the 1956-57 season. For more information on the USBWA and its award programs, contact executive director Joe Mitch at 314-795-6821.