ST. LOUIS (USBWA) – The U.S. Basketball Writers Association has selected 32 outstanding players for its 2017-18 Oscar Robertson Trophy Preseason Watch List. Members of the association's board of directors chose the players to be included on the list as contenders for the Oscar Robertson Trophy.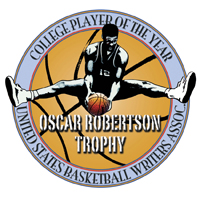 The award is to be presented to the national player of the year by its namesake at the NCAA Final Four in San Antonio.
The Atlantic Coast Conference has eight players on the list to lead all conferences, led by preseason ACC Player of the Year Bonzie Colson of Notre Dame. Duke senior Grayson Allen and three prized Blue Devil freshmen give the nation's preseason No. 1 team a national-best four players on the list. Colson and Allen are among 11 seniors tabbed by the USBWA as a national player of the year candidate.
Nine other conference preseason players of the year made the USBWA list, including seniors Devonté Graham of Kansas and Yante Maten of Georgia, one of three co-players of the year from the SEC.
In addition to Duke's three first-year standouts, six other freshmen were tabbed by the USBWA as candidates for the Oscar Robertson Trophy, including Missouri's Michael Porter Jr., also among the SEC's preseason co-players of the year.
The nation's leading returning scorer, junior Mike Daum of South Dakota State (25.1 points per game a year ago) and Seton Hall senior Angel Delgado, who led the nation with 13.1 rebounds per game last season, are among the 32 preseason candidates.
Arizona (Deandre Ayton and Allonzo Trier) and Kentucky (Hamidou Diallo and Kevin Knox) also boast teammates named to the watch list as the SEC had seven players and the Pac-12 had four given mention. Fifteen of the 32 players are listed as forwards, with 14 guards and three centers making the list. Four selections are international players.
Following is the complete watch list:
2017-18 OSCAR ROBERTSON TROPHY PRESEASON WATCH LIST (32)
Pos.
Player, School
Ht.
Wt.
Yr.
Hometown
G
Jaylen Adams, St. Bonaventure
6-2
190
Sr.
Baltimore, Md.
F
Deng Adel, Louisville
6-7
200
Jr.
Melbourne, Australia
G
Grayson Allen, Duke
6-5
205
Sr.
Jacksonville, Fla.
G
KeVaughn Allen, Florida
6-2
193
Jr.
Little Rock, Ark.
F
Deandre Ayton, Arizona
7-1
250
Fr.
Nassau, Bahamas
F
Marvin Bagley III, Duke
6-11
234
Fr.
Phoenix, Ariz.
C
Mohamed Bamba, Texas
6-11
225
Fr.
New York, N.Y.
G
Joel Berry II, North Carolina
6-0
195
Sr.
Apopka, Fla.
G
Trevon Bluiett, Xavier
6-6
198
Sr.
Indianapolis, Ind.
F
Miles Bridges, Michigan State
6-7
225
So.
Flint, Mich.
G
Bruce Brown Jr., Miami
6-5
190
So.
Boston, Mass.
G
Jalen Brunson, Villanova
6-3
190
Jr.
Lincolnshire, Ill.
G
Jevon Carter, West Virginia
6-2
205
Sr.
Maywood, Ill.
F
Wendell Carter Jr., Duke
6-10
259
Fr.
Atlanta, Ga.
F
Gary Clark, Cincinnati
6-8
225
Sr.
Clayton, N.C.
F
Bonzie Colson, Notre Dame
6-6
224
Sr.
New Bedford, Mass.
F
Mike Daum, South Dakota State
6-9
150
Jr.
Kimball, Neb.
C
Angel Delgado, Seton Hall
6-10
245
Sr.
Bajos de Haina, D.R.
G
Hamidou Diallo, Kentucky
6-5
198
Fr.
Queens, N.Y.
G
Trevon Duval, Duke
6-3
186
Fr.
New Castle, Del.
G
Devonté Graham, Kansas
6-2
185
Sr.
Raleigh, N.C.
C
Ethan Happ, Wisconsin
6-10
235
Jr.
Milan, Ill.
F
Kevin Knox, Kentucky
6-9
215
Fr.
Tampa, Fla.
C
Jock Landale, Saint Mary's
6-11
255
Sr.
Malvern East, Australia
F
Yante Maten, Georgia
6-8
240
Sr.
Pontiac, Mich.
F
Chimezie Metu, USC
6-11
225
Jr.
Lawndale, Calif.
F
Michael Porter Jr., Missouri
6-10
215
Fr.
Columbia, Mo.
G
Collin Sexton, Alabama
6-3
190
Fr.
Mableton, Ga.
G
Landry Shamet, Wichita State
6-4
180
So.
Kansas City, Mo.
F
Reid Travis, Stanford
6-8
245
Jr.
Minneapolis, Minn.
G
Allonzo Trier, Arizona
6-5
205
Jr.
Seattle, Wash.
F
Robert Williams, Texas A&M
6-10
241
So.
Oil City, La.
By conference: ACC 8, SEC 7, Pac-12 4, Big 12 3, Big East 3, American Athletic 2, Big Ten 2, Atlantic-10 1, Summit League 1, West Coast 1.
By position: Forwards 15, Guards 14, Centers 3.
By class: Seniors 11, Juniors 8, Sophomores 4, Freshmen 9.
While these standout players are the initial contenders for the Oscar Robertson Trophy, all NCAA Division I players are eligible for postseason honors from the USBWA. For the ninth straight season, the USBWA will present an Oscar Robertson National Player of the Week each Tuesday beginning Dec. 12.
In mid-March, the USBWA will announce its 2017-18 All-America Team and, at that time, finalists will also be chosen for the player of the year. Once finalists are announced, the entire USBWA membership will vote for the winner of the Oscar Robertson Trophy.
Since the 1958-59 season, the USBWA has named a National Player of the Year. In 1998, the award was named in honor of the University of Cincinnati Hall of Famer and two-time USBWA Player of the Year Oscar Robertson. It is the nation's oldest player of the year award and the only one named after a former player.
The U.S. Basketball Writers Association was formed in 1956 at the urging of then-NCAA Executive Director Walter Byers. With more than 900 members worldwide, it is one of the most influential organizations in college basketball. It has selected an All-America team since the 1956-57 season. For more information on the USBWA and the Oscar Robertson Trophy, contact executive director Joe Mitch at 314-795-6821.
Related links:
• Oscar Robertson Trophy
• USBWA logos