ST. LOUIS (USBWA) – Former University of Dayton basketball coach Don Donoher has been named the winner of this year's Dean Smith Award given annually by the U.S. Basketball Writers Association to an individual in college basketball who embodies the spirit and values of the late North Carolina coach.
Donoher will be presented with the award at a dinner in Dayton on Dec. 13. Washington Post sportswriter John Feinstein, a past president of the USBWA and the person who suggested creating an award honoring Smith, will present the award to Donoher.
"Don Donoher was a great basketball coach, but has always been a better person," Feinstein said. "At a time in college basketball when we're looking for people we can respect and admire unconditionally, Coach Donoher remains to this day a beacon of class, dignity and hope.
"I can't think of anyone who personifies the qualities that made Dean Smith a great man more than "Mick" Donoher. Coach Smith would be very proud to have Don's name on the award in his honor."
Donoher is the third person to receive the Dean Smith Award. Former Georgetown coach John Thompson was the first recipient in 2015, followed by Michigan State coach Tom Izzo last year.
"I am honored to receive this award," Donoher said. "It has special meaning to me with Coach Smith's name on it. On a couple occasions, I went to visit with Dean to pick his brain."
Coaches selected for the award are recognized for more than just their success in basketball. They are chosen for their principles of honesty and integrity, for treating all people with courtesy and respect, for accomplishments off the court, and for the impact they have made on their community and the lives of their players.
"Don Donoher exemplifies the reason we have the Dean Smith Award," said USBWA president Vahe Gregorian, sports columnist for The Kansas City Star. "Not only in terms of his distinguished career on the court but also because of his commitment to his community and forever making a difference in his players' lives."
In 2016, Donoher was inducted into the Dayton Region Walk of Fame for having a positive impact in the community. He has served as a volunteer for the American Red Cross and was chairperson for its 100th anniversary fundraising drive.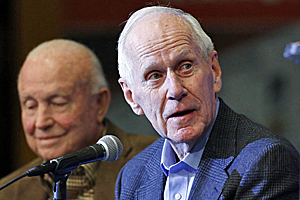 Don Donoher
He has been a volunteer basketball coach at Bishop Fenwick High School in Middleton, Oh. He remains very supportive of his local parish and gives back to the university, both of his time and with charitable contributions.
Donoher retired in 1989 after 25 years as Dayton's head coach with 437 career victories, the most in UD history.
He led Dayton to nine NCAA tournament appearances, a NIT championship in 1968 and a runner-up finish in the 1967 NCAA championship game against UCLA. He played for the Flyers from 1951-1954 and became the first coach to take his alma mater to the NCAA championship game after appearing in the tournament as a player.
Donoher was inducted into the National Collegiate Basketball Hall of Fame in 2015. In 1998, Dayton honored Donoher by naming an addition to the UD Arena after him.
Net proceeds from the dinner will benefit UD's Champions and Scholars Fund and the Dean E. Smith Opening Doors Fund, which provides scholarships for undergraduates from lower-income families to attend college and for professionals in education and social work to pursue advanced degrees.
The U.S. Basketball Writers Association was formed in 1956 at the urging of then-NCAA Executive Director Walter Byers. With some 900 members worldwide, it is one of the most influential organizations in college basketball. It has selected an All-America team since the 1956-57 season. For more information on the USBWA and the Dean Smith Award, contact executive director Joe Mitch at 314-795-6821.