ST. LOUIS (USBWA) – Tennessee coach Rick Barnes, who has led the Volunteers to arguably the greatest season in school history that included a school-record 19-game win streak, has been named the winner of the Henry Iba Award, given annually by the U.S. Basketball Writers Association to its national coach of the year. This is the first time for Barnes to win the Henry Iba Award and the first time for a Tennessee coach to earn the honor.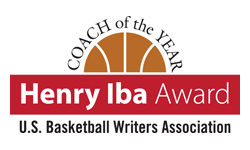 Although the award is based on regular-season performance, the Volunteers (31-5) tied a school record with a 31st win Sunday in their 83-77 overtime victory over Iowa in the South Region, where they are seeded second. Barnes has Tennessee playing in its seventh all-time Sweet 16 later this week in Louisville, Ky., where they face Purdue on Thursday. This is only the second 30-win season in Tennessee's history.
Barnes' guidance helped keep Tennessee ranked among the top 10 in both national polls throughout the season that included sitting at No. 1 in the polls for four weeks at the end of the record win streak. Led by Oscar Robertson Trophy finalist and first-team All-American Grant Williams, Tennessee finished second in the Southeastern Conference with a 15-3 record and a 29-5 finish to the regular season.
Barnes is the first SEC coach to win the award since Tubby Smith of Kentucky in 2003, and only five SEC coaches have ever won the Henry Iba Award – Barnes, Smith (2003), Cliff Ellis of Auburn (1999), Eddie Fogler of Vanderbilt (1993) and Adolph Rupp of Kentucky (1966) – since its inception in 1959.
He was chosen from a list of finalists that also included three of the last four winners in Tony Bennett of Virginia (2018, '15, also won at Washington State in '07) and Mark Few (2017, Gonzaga), plus another former winner, Houston's Kelvin Sampson ('95 at Oklahoma), as well as Chris Beard (Texas Tech), Matt Painter (Purdue), and Mike Young (Wofford).
Tennessee's record 19-game win streak saw spanned from late November into mid-February, marking the longest win streak of Barnes' coaching career, and while defeating three top-five opponents along the way the Vols led the SEC and were 20th nationally in scoring offense (81.7 ppg). Their 49.6 shooting percentage also led the SEC and was seventh nationally.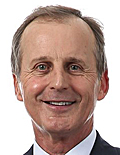 Rick Barnes
Barnes helped Williams, a junior forward, repeat as the SEC Player of the Year and become just the 10th player in conference history to win the award in back-to-back seasons, and the first since 1995. Vols senior wing Admiral Schofield (first team) and point guard Jordan Bone (second team) also earned All-SEC honors this season.
Barnes, who earlier this month was named the USBWA's District IV Coach of the Year for a second consecutive season, will be honored at the USBWA College Basketball Awards Dinner at the Missouri Athletic Club in St. Louis on Mon., April 15. Public tickets for the dinner are on sale at thecollegebasketballawards.eventbrite.com. Tickets are $150 per person and include dinner, drinks and parking in the MAC garage. Sponsorship opportunities are available by contacting Jim Wilson at the MAC at 314-539-4488.
This is the 24th time Barnes has led a team into the NCAA Tournament, the most among active SEC coaches. After Sunday's win, Barnes is 88-49 (.642) in four seasons at Tennessee and 692-363 (.656) in 32 seasons overall.
This is Tennessee's 22nd trip to the NCAA Tournament in its 109-year history, or two fewer than Barnes (24) has in his head coaching career. Tennessee's deepest NCAA Tournament run came in 2010 into the Elite Eight, where it fell to Michigan State. The Vols have competed in seven previous Sweet 16's, all of them this century (2000, '07, '08, '10 and '14).
Barnes is the 13th head coach to lead four different programs to the NCAA Tournament; he led Providence and Clemson to three berths each before guiding Texas to 16 tournament appearances in 17 years. This is his second straight appearance with the Vols. Of those 24 berths, he will this week coach in his seventh Sweet 16, and he has been to three Elite Eights and one Final Four in 2003.
The Henry Iba Award is named in honor of the legendary coaching great at Oklahoma A&M (now Oklahoma State) who won two NCAA championships and two gold medals and one silver as coach of the U S. Olympic teams.
The U.S. Basketball Writers Association was formed in 1956 at the urging of then-NCAA Executive Director Walter Byers. With some 900 members worldwide, it is one of the most influential organizations in college basketball. It has selected an All-America team since the 1956-57 season. For more information on the USBWA and its award programs, contact executive director Joe Mitch at 314-795-6821.
Related links:
• Finalists named for USBWA's men's awards
• All-time Henry Iba Award winners
• Downloadable logos