BIRMINGHAM, Ala. (USBWA) – The U.S. Basketball Writers Association has named its annual recognition of its women's national freshman of the year the Tamika Catchings Award. Catchings, vice president of basketball operations for the Indiana Fever of the WNBA, was the consensus national freshman of the year during the 1997-98 season, when she averaged 18.2 points per game to lead the Tennessee Lady Volunteers to a national championship in a 39-0 season.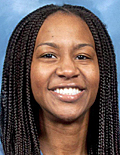 Catchings
"You don't go into the game to gather awards," Catchings said at SEC Women's Basketball Media Day. "You go into the game to leave a presence."
As a Tennessee freshman, Catchings was named to the All-Final Four Team. She set program records for most points with 711, including a 35-point game against DePaul. She went on to become a three-time USBWA All-American and the association's National Player of the Year in the 1999-2000 season as she finished her career at Tennessee with 2,133 career points and 1,004 career rebounds. In her four seasons playing for the legendary Pat Summitt, the Lady Vols won four SEC titles and compiled a 134-10 record, including a 54-2 mark in conference play. She was a three-time first-team All-SEC selection.
When Catchings retired from the WNBA in 2016 after 16 seasons with the Fever, she was second in league history in points (7,380), and first in rebounds (3,316), steals (1,074) and free throws (2,004). A five-time WNBA Defensive Player of the Year, she was named to 11 All-Defense teams. Catchings was the league's Most Valuable Player in 2011 and was the WNBA Finals Most Valuable Player during the Fever's 2012 championship season.
Catchings played for the United States on Olympic gold-medal winning teams in 2004, '08, '12 and '16.
She has a master's degree in Sports Studies from Tennessee. Her Catch The Stars Foundation helps disadvantaged youth achieve their dreams by promoting fitness, literacy and youth development.
"There is no better example, mentor and role model for gifted freshmen than Tamika," said Malcolm Moran, USBWA Executive Director and Director of the Sports Capital Journalism Program at IUPUI. "Her commitment to community service and her move into management are also an inspiration for the next generation. She is an ideal choice."
USBWA Board Member Mel Greenberg said, "While our focus is on the collegiate world in citing all-timers, Tamika's starring roles as an Olympic gold medalist and in an all-WNBA playing career with the Fever – where she is blazing a trail in the front office – must be noted."
The Tamika Catchings Award becomes the fourth named award for women's college basketball by the USBWA. It joins the Ann Meyers Drysdale Award for National Player of the Year, the Pat Summitt Most Courageous Award, which was named after Catchings' Hall of Fame coach at Tennessee, and the Mary Jo Haverbeck Award for service to the USBWA.
The U.S. Basketball Writers Association was formed in 1956 at the urging of then-NCAA Executive Director Walter Byers. With some 800 members worldwide, it is one of the most influential organizations in college basketball. For more information on the USBWA and its award programs, contact executive director Malcolm Moran at 814-574-1485.
ALL-TIME USBWA WOMEN'S NATIONAL FRESHMAN PLAYERS OF THE YEAR
1991-92 Niesa Johnson, Alabama
1992-93 Katie Smith, Ohio State
1993-94 Leslie Johnson, Purdue
1994-95 Korie Hlede, Duquesne
1995-96 Chamique Holdsclaw, Tennessee
1996-97 Shea Ralph, UConn
1997-98 Tamika Catchings, Tennessee
1998-99 Linda Froehlich, UNLV
1999-00 LaToya Thomas, Mississippi State
2000-01 Alana Beard, Duke
2001-02 Jacqueline Batteast, Notre Dame
2002-03 Seimone Augustus, LSU
2003-04 Tiffany Jackson, Texas
2004-05 Tasha Humphrey, Georgia; Candice Wiggins, Stanford
2005-06 Courtney Paris, Oklahoma
2006-07 Tina Charles, UConn
2007-08 Maya Moore, UConn
2008-09 Shekinna Stricklen, Tennessee
2009-10 Brittney Griner, Baylor
2010-11 Odyssey Sims, Baylor
2011-12 Elizabeth Williams, Duke
2012-13 Jewell Loyd, Notre Dame
2013-14 Diamond DeShields, North Carolina
2014-15 Kelsey Mitchell, Ohio State
2015-16 Kristine Anigwe, California
2016-17 Sabrina Ionescu, Oregon
2017-18 Chennedy Carter, Texas A&M
2018-19 Rhyne Howard, Kentucky