ST. LOUIS (USBWA) – The U.S. Basketball Writers Association has selected 12 standout players for its 2019-20 Oscar Robertson Trophy Midseason Watch List. Members of the association's board of directors chose the players that will be considered as contenders for the National Player of the Year.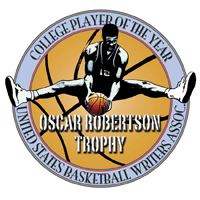 The Oscar Robertson Trophy is to be presented by its namesake at the NCAA Final Four in Atlanta in April and the winner will be honored at the USBWA Awards Dinner on April 13 at the Missouri Athletic Club in St. Louis.
The bulk of the watch list is composed of two players from each of the Atlantic Coast, Big East, Big Ten and Big 12 Conferences, including the nation's scoring leader, Markus Howard of Marquette, and the national field goal percentage leader, Udoka Azubuike of Kansas.
Howard averages 27.3 points per game and recently became the 72nd player in NCAA history to reach the career 2,500-point mark. The senior is averaging 28.2 points per game in Big East play and has 10 30-point games this season.
Azubuike's 75.0 percent accuracy includes 11 games of 80 percent or better and he also leads the Big 12 in rebounding (9.6 per game) and double-doubles (10).
Kansas sophomore guard Devon Dotson leads the Big 12 in scoring at 18.1 points per game and free throws made at 106. He has seven 20-point efforts this season and had a career-high 11 assists at TCU last Saturday.
San Diego State junior guard Malachi Flynn is the only player in the nation to average 16.5 points and five assists with an assist-to-turnover ratio of 3:1 or better; he has scored in double figures in 24 of 25 games for the only undefeated team in the country.
Iowa center Luka Garza is one of only two players to average better than 23 points and 9.9 rebounds per game and is the Big Ten scoring leader (23.1). He also has 13 double-doubles (second in the Big Ten) and is fourth in Big Ten rebounding.
Michigan State senior guard Cassius Winston is one of only eight Division I players averaging at least 18.0 points, 5.5 assists and 2.0 rebounds per game. He is the Big Ten's career leader in assists (849).
Jordan Nwora of Louisville leads the ACC in scoring (18.8) and his 469 points this year is the second-most by a U of L player through 25 games over the last 20 seasons. The preseason ACC Player of the Year has 13 20-point games.
Myles Powell is averaging 21.4 points per game for Seton Hall – the current Big East leader – which is 12th nationally and second in the conference. He recently became the program's all-time leader in three-point field goals.
Oregon guard Payton Pritchard entered the week as the only player in the nation leading his conference in both scoring (19.5) and assists (6.0) and is one of just four players averaging at least 19 points, four rebounds and five assists per game. The senior is the first player in Pac-12 history to reach 1,700 career points, 600 career assists and 500 career rebounds.
Filip Petrusev of second-ranked Gonzaga is one of three sophomores on the list along with Dotson and Obi Toppin of Dayton. Petrusev averages a team-high 17.2 points per game. Toppin posted his seventh double-double earlier this week along with his 12th 20-point game and he leads the nation in dunks (80). Duke center Vernon Carey Jr. is the lone freshman on the list and has 11 double-doubles this season.
Following is the complete watch list:
2019-20 OSCAR ROBERTSON TROPHY MIDSEASON WATCH LIST
Pos.
Player, School
Ht.
Wt.
Yr.
Hometown
C
Udoka Azubuike, Kansas
7-0
270
Jr.
Delta, Nigeria
C
Vernon Carey Jr., Duke
6-10
270
Fr.
Southwest Ranches, Fla.
G
Devon Dotson, Kansas
6-2
185
So.
Charlotte, N.C.
G
Malachi Flynn, San Diego State
6-1
185
Jr.
Tacoma, Wash.
C
Luka Garza, Iowa
6-11
260
Jr.
Washington, D.C.
G
Markus Howard, Marquette
5-11
180
Sr.
Chandler, Ariz.
F
Jordan Nwora, Louisville
6-7
225
Jr.
Buffalo, N.Y.
F
Filip Petrusev, Gonzaga
6-11
235
So.
Belgrade, Serbia
G
Myles Powell, Seton Hall
6-2
195
Sr.
Trenton, N.J.
G
Payton Pritchard, Oregon
6-2
190
Sr.
West Linn, Ore.
F
Obi Toppin, Dayton
6-9
220
So.
Brooklyn, N.Y.
G
Cassius Winston, Michigan State
6-1
185
Sr.
Detroit, Mich.
By conference: ACC 2; Big East 2; Big Ten 2; Big 12 2; Atlantc 10 1; Mountain West 1; Pac-12 1; West Coast 1.
By class: Seniors 4; Juniors 4; Sophomores 3; Freshmen 1.
While these standout players are contenders for the Oscar Robertson Trophy, all NCAA Division I players are eligible for postseason honors from the USBWA. For the 11th straight season, the USBWA is presenting an Oscar Robertson National Player of the Week each Tuesday that began Nov. 19.
In March, the USBWA will announce its 2019-20 All-America Team and, at that time, finalists will also be chosen for the player of the year. Once finalists are announced, the entire USBWA membership will vote for the winner of the Oscar Robertson Trophy.
Since the 1958-59 season, the USBWA has named a National Player of the Year. In 1998, the award was named in honor of the University of Cincinnati Hall of Famer and two-time USBWA Player of the Year Oscar Robertson. It is the nation's oldest player of the year award and the only one named after a former player.
The U.S. Basketball Writers Association was formed in 1956 at the urging of then-NCAA Executive Director Walter Byers. With more than 900 members worldwide, it is one of the most influential organizations in college basketball. It has selected an All-America team since the 1956-57 season. For more information on the USBWA and the Oscar Robertson Trophy, contact executive director Malcolm Moran at 814-574-1485.