OMAHA, Neb. (USBWA) – David Price, the most prolific student-athlete in Vanderbilt baseball history and one of the top hurlers in Southeastern Conference annals, has been selected as the 21st annual recipient of the Dick Howser Trophy.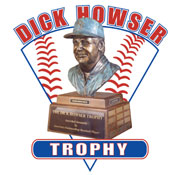 The St. Petersburg Area Chamber of Commerce and National Collegiate Baseball Writers Association (NCBWA) selected Price in a vote of over 300 members of the NCBWA and Dick Howser Trophy committee prior to Friday's announcement at the Omaha Press Club.
A 6-6, 225-pound junior from Murfreesboro, Tenn., for Coach Tim Corbin's Commodores, the consensus All-America left-hander led the SEC in five different pitching categories and was dominant in almost every start for his '07 squad. He led Vandy to a school-record-season victories' total at 54-13 overall and is the Commodores' first men's athletics national player of the year in any sport.
Price was chosen as the first player in the 2007 Major League Baseball Draft by the Tampa Bay Devil Rays (VU's first-ever initial draft selection) and ended the year at 11-1 overall with 194 strikeouts in 133 1/3 innings pitched (13.1 strikeouts every nine frames). He did not lose a decision in his 17 starts and struck out 10 or more batters in 12 of those first 17 appearances. Price also had a career-high 17 strikeouts in the opening round of the NCAA Nashville Regional in nine innings against Austin Peay. He also fanned 15 LSU hitters in a key late-season conference victory.
David Feaster of the St. Petersburg Area Chamber of Commerce presents the Dick Howser Trophy to Vanderbilt's David Price
The 2007 Southeastern Conference Pitcher of the Year and Collegiate Baseball's National Co-Player of the Year (with Florida State 2B Tony Thomas, Jr.), finished with a 2.63 earned run average and 95 hits (a norm of 6.4 hits every nine innings). He also broke the Vandy career strikeout record with 441 in just three seasons and 313 innings of work.
Price's 194 strikeouts also were second in SEC season history to LSU's Ben McDonald (1989), and the former All-State basketball standout at Murfreesboro's Blackman High School helped Vanderbilt rise to a No. 1 ranking nationally for nine-consecutive weeks – a school record. The junior helped Vandy take its first-ever regular-season Southeastern Conference crown in '07, and was a standout on both the 2005 and '06 VU postseason entries.
As a freshman, he worked out of the bullpen in the early portion of the season, while striking out 92 hitters in 69-plus innings and posting a 2.86 ERA. Last year he was 9-5 with 155 strikeouts and 43 walks in 110-plus frames. Posting a 22-10 record during his three-year career, he has averaged 12.7 strikeouts and just 2.99 walks every nine frames, while working as VU's "ace" in each of the last two years.
He is ranked in almost every major NCAA pitching category with his 194 total whiffs (most in nation), 11 victories (top 15) and 13.1 game strikeouts' average (second). The Murfreesboro resident also was Baseball America's 2006 Summer Player of the Year with a 5-1 record, 0.20 ERA, one earned run in 44 innings tossed, and a major role in Team USA's gold medal in the World University Games at Havana, Cuba.
"Once again, the Dick Howser Trophy has been awarded to an individual with great character, as well as great athletic ability," said Howser Trophy Committee Chair David Feaster of St. Petersburg. "David Price epitomizes all that is great with college baseball, and has exhibited great leadership on and off the field. The Dick Howser Trophy committee and all involved send our heartiest congratulations."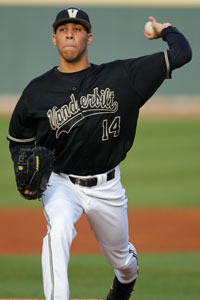 David Price

Price topped a field of an initial Watch List of 50 stellar diamondmen and three other finalists - Texas outfielder Kyle Russell, Rice pitcher-first baseman-designated hitter Joe Savery, and FSU's Tony Thomas – three other consensus All-America choices.

Price's name will be added to the permanent trophy, a bronze bust of Howser permanently displayed at Tropicana Field in St. Petersburg, home of the Tampa Bay Devil Rays. Both the winner and his school receive a special trophy to keep. The Dick Howser Trophy committee will make another formal presentation of the trophy to the VU standout at a 2007 Vanderbilt home game to be determined.

The St. Petersburg Area Chamber of Commerce has had over 100 years of community service since its founding in 1899. The organization has long been a vital force in the baseball affairs of the city, both in spring training and during the pursuit of a major league baseball franchise for the Tampa Bay area, and continues its solid role in the 21st Century. NCBWA membership includes writers, broadcasters and publicists. Designed to promote and publicize college baseball, it is the sport's only college media-related organization, founded in 1962.

The Howser Trophy was created in 1987, shortly after Howser's death. Previous winners of the Howser Trophy are Mike Fiore, Miami, 1987; Robin Ventura, Oklahoma State, 1988; Scott Bryant, Texas, 1989; Alex Fernandez, Miami-Dade Community College South, 1990; Frank Rodriguez, Howard College (Texas), 1991; Brooks Kieschnick, Texas, 1992 and 1993; Jason Varitek, Georgia Tech, 1994; Todd Helton, Tennessee, 1995; Kris Benson, Clemson, 1996; J.D. Drew, Florida State, 1997; Eddy Furniss, LSU, 1998; Jason Jennings, Baylor, 1999; Mark Teixeira, Georgia Tech, 2000; Mark Prior, Southern California, 2001; Khalil Greene, Clemson, 2002; Rickey Weeks, Southern, 2003; Jered Weaver, Long Beach State, 2004; Alex Gordon, Nebraska, 2005; Brad Lincoln, Houston, 2006.

For further information about the Howser Trophy, please contact: David Feaster, Chair, Dick Howser Trophy Committee, 100 No. 2nd Ave., St. Petersburg, FL 33701, (727) 388-1000; or Bo Carter, Executive Director of NCBWA, 433 E. Las Colinas Blvd., Ste 1130, Irving, TX 75039, (972-556-1000, ext. 22).

2007 Dick Howser Trophy:
• April 26: Dick Howser Trophy watch list
• May 17: Dick Howser Trophy semifinalists
• June 7: Dick Howser Trophy finalists
• June 15: Dick Howser Trophy presented in Omaha

Related links:
• Official site (dickhowsertrophy.com)
• More on David Price (from vucommodores.com)