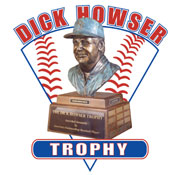 DALLAS (NCBWA) – The National Collegiate Baseball Writers Association, working in conjunction with the St. Petersburg Area Chamber of Commerce, has released the watch list of 50 candidates for the Dick Howser Trophy, given to the top player in collegiate baseball.
The membership of the NCBWA will choose the Dick Howser Trophy based on three rounds of voting. The 2008 winner will be announced at the College World Series in Omaha on Saturday, June 14, at 10:00 a.m. CDT.
The Dick Howser Trophy, given in memory of the former Florida State University All-America shortstop and major league player and manager who died of brain cancer in 1987, is regarded by many as college baseball's most prestigious award.
Criteria for consideration for the trophy include performance on the field, leadership, moral character and courage, qualities that were exemplified by Dick Howser's life.
2008 DICK HOSWER TROPHY WATCH LIST
1B Dustin Ackley, North Carolina
2B Jedd Gyorko, West Virginia
2B Josh Adams, Florida
SS Reese Havens, South Carolina
SS Gordon Beckham, Georgia
P Chris Hernandez, Miami (Fla.)
RP Kyle Bellamy, Miami (Fla.)
P Shooter Hunt, Tulane
3B Vince Belnome, West Virginia
2B Ryne Jernigan, South Alabama
1B Justin Bour, George Mason
C Corey Kemp, East Carolina
P George Brown, St. John's
OF Ryan Lavarnway, Yale
UT Jason Buursma, Bucknell
P Mike Leake, Arizona State
P Anthony Capra, Wichita State
P Brian Matusz, San Diego
2B Adam Carrithers, UCLA
OF Mike McKenna, Florida Atlantic
OF Sawyer Carroll, Kentucky
C Tim Park, William & Mary
3B Dane Carter, Texas A&M
C Buster Posey, Florida State
C Mark Carver, UNC Wilmington
OF Jacob Priday, Missouri
1B Matt Clark, LSU
UT Zach Putnam, Michigan
RP Tyler Conn, Southern Miss
OF Michael Rockett, UTSA
1B David Cooper, California
RP Michael Schwimer, Virginia
OF Collin Cowgill, Kentucky
1B Xavier Scruggs, UNLV
DH Chad Cregar, Western Kentucky
2B Kyle Seager, North Carolina
P Aaron Crow, Missouri
OF Chris Shehan, Georgia Southern
UT Ike Davis, Arizona State
1B Mike Sheridan, William & Mary
3B Chris Dominguez, Louisville
1B Justin Smoak, South Carolina
P Johnny Dorn, Nebraska
P Stephen Strasburg, San Diego State
RP Joshua Fields, Georgia
3B Jeremie Tice, College of Charleston
P Christian Friedrich, Eastern Kentucky
3B Brett Wallace, Arizona State
2B Johnny Giavotella, New Orleans
2B Jemile Weeks, Miami (Fla.)
A Florida native, Howser was a two-time All-America shortstop at Florida State University (1957-58), then coached the Seminoles in 1979 after a career as a major league player and coach. After one year in the college ranks, Howser returned to the majors to manage the New York Yankees and Kansas City Royals and won the World Series with the Royals in 1985. The baseball stadium on the Florida State campus is named for Howser.

The winner's name is inscribed on the permanent trophy, a bronze bust of Howser permanently displayed at Tropicana Field in St. Petersburg, home of the Tampa Bay Devil Rays. Both the winner and his school receive a special trophy to keep.

The St. Petersburg Area Chamber of Commerce is in its 109th year of existence in 2007. The organization has long been a vital force in the baseball affairs of the city, both in spring training and during the pursuit of a major league baseball franchise for the Tampa Bay area, and continues its solid role in the 21st Century.

NCBWA membership includes writers, broadcasters and publicists. Designed to promote and publicize college baseball, it is the sport's only college media-related organization, founded in 1962.

The Howser Trophy was created in 1987, shortly after Howser's death. Previous winners of the Howser Trophy are Mike Fiore, Miami, 1987; Robin Ventura, Oklahoma State, 1988; Scott Bryant, Texas, 1989; Alex Fernandez, Miami-Dade Community College South, 1990; Frank Rodriguez, Howard College (Texas), 1991; Brooks Kieschnick, Texas, 1992 and 1993; Jason Varitek, Georgia Tech, 1994; Todd Helton, Tennessee, 1995; Kris Benson, Clemson, 1996; J. D. Drew, Florida State, 1997; Eddy Furniss, LSU, 1998; Jason Jennings, P, Baylor, 1999; Mark Teixeira, 1B, Georgia Tech, 2000; Mark Prior, P, USC, 2001, Khalil Greene, SS, Clemson, 2002; Rickey Weeks, 2B, Southern U., 2003; Jered Weaver, P, Long Beach State, 2004; Alex Gordon, 3B, Nebraska, 2005; Brad Lincoln, P, Houston, 2006; and David Price, P, Vanderbilt, 2007.

2008 Dick Howser Trophy:
• April 24: Dick Howser Trophy watch list
• May 15: Dick Howser Trophy semifinalists
• June 5: Dick Howser Trophy finalists
• June 14: Dick Howser Trophy presented in Omaha

Related links:
• More on the Dick Howser Trophy
• Official site (dickhowsertrophy.com)