OMAHA, Neb. (NCBWA) – Buster Posey, Florida State's slugging catcher and Atlantic Coast Conference Player of the Year as well as 2008 CoSIDA/ESPN the Magazine Academic Baseball Player of the Year, is the 22nd annual recipient of the Dick Howser Trophy, presented by Whitney Bank.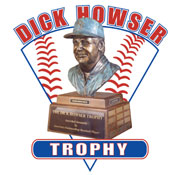 The St. Petersburg Area Chamber of Commerce and National Collegiate Baseball Writers Association selected Posey in a vote of over 300 members of the NCBWA and Dick Howser Trophy committee from an initial field of more than 700 nominees in 2008.
The presentation was made Saturday prior to the Seminoles' first game in the 2008 NCAA College World Series against Stanford at Rosenblatt Stadium.
Posey, a consensus first team All-America selection and Academic All-America in '08, is a 6-2, 200-pound junior standout from Leesburg (Ga.) Lee County High School, located in South Georgia, approximately 120 miles from the FSU campus in Tallahassee.
Besides leading the Seminoles to their 19th appearance in the NCAA World Series and a school-record 31st consecutive NCAA tourney appearance, his baseball resume makes it easy to see why the voters overwhelmingly chose him as the college player of the year. One of his most impressive weekend showings was when he powered five home runs (including four in two games during the Saturday portion of the meet) and drove in 13 runs to in five games to help the Seminoles come from the losers' bracket after game one to capture the NCAA Tallahassee Regional.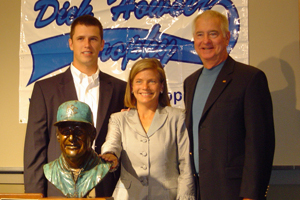 Buster Posey with Jana Howser and Florida State head coach Mike Martin at the trophy presentation in Omaha.
The fifth player chosen overall in the June 2008 Major League Baseball free agent draft by the San Francisco Giants, Posey enters the CWS with an NCAA-leading .460 batting average and Top 10 individual credentials in seven of the NCAA's Division I statistical categories. Through 66 games he tops the NCAA with 92 RBI, 26 home runs (tied for first place), 114 hits, 88 runs, a .564 on-base percentage, and 220 total bases. He sports a .887 slugging percentage and is one of the top defensive catchers in the country with just eight errors in 474 chances for a .983 fielding percentage.
He paced FSU to a 54-12 record, the ACC Eastern Division regular-season crown for the second year in succession and the ACC postseason tournament trophy. He was the All-ACC catcher for the second straight season and also made the ACC All-Tournament team in '08.
Posey has been a constant President's List Scholar as well as All-ACC Academic teams in both 2007 and '08. He is just the second Florida State student-athlete to receive CoSIDA/ESPN the Magazine National Academic Player of the Year laurels.
His 2008 honors also include Collegiate Baseball's National Player of the Year as well as a finalist for the Johnny Bench, the Golden Spikes and Brooks Wallace Awards. He was a preseason All-America selection in '08 for both Collegiate Baseball and the NCBWA.
Besides leading the Seminoles in every major offensive category, he batted a league-leading .479 in 30 ACC games to top the circuit. Currently, he is on track to become just the fourth Atlantic Coast Conference student-athlete to win the league's triple crown – tops in average, homers and RBI.
Posey played all nine positions against Savannah State on May 12 and has started at catcher (62 games), as designated hitter (three contests) and at second base in one outing. He has scored runs in 53 of the Seminoles first 66 contests and has drive in a run in 49 of his first 66 encounters.
As a relief pitcher he has not allowed a run in 7 1/3 innings with eight appearances, recording six saves (in six opportunities), two combined shutouts, 10 strikeouts, one walk, and a .120 opponents batting average. Posey is fourth among ACC pitchers in saves and also threw out 22 runners (41.5 percent) of all players trying to steal bases while he was catching.
He entered '08 with a .364 career batting average, ample academic honors and two previous NCAA trips while starting at shortstop as a freshman and then moving over to start as a catcher in '07. Posey was a 2004 member of the USA Junior National squad, and one of his '08 FSU teammates is freshman brother Jack Posey.
"Buster Posey epitomizes the spirit and persona of the Dick Howser, who also starred at Florida State as a student-athlete," said Howser Trophy Committee chair David Feaster of the Greater St. Petersburg Chamber of Commerce. "His academic, athletic, leadership, and character qualities make him a very logical recipient of this year's Whitney Bank Dick Howser Trophy. On behalf of the Dick Howser Trophy committee, the NCBWA and all involved, I send our heartiest congratulations."
Posey's name will be added to the permanent trophy, a bronze bust of Howser permanently displayed at Tropicana Field in St. Petersburg, home of the Tampa Bay Rays. Both the winner and his school receive a special trophy as a keepsake. The Dick Howser Trophy committee will make another formal presentation of the trophy to the FSU star at a 2008 Seminoles' football home game to be determined as well as Dick Howser Stadium next baseball season. He joins previous Florida State standout J.D. Drew in 1997 as a recipient of the Howser Trophy.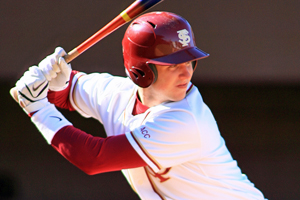 Florida State catcher Buster Posey

The St. Petersburg Area Chamber of Commerce has enjoyed over 100 years of community service since its founding in 1899. The organization has long been a vital force in the baseball affairs of the city, both in spring training and during the pursuit of a major league baseball franchise for the Tampa Bay area, and continues its solid role in the 21st Century. NCBWA membership includes writers, broadcasters and publicists. Designed to promote and publicize college baseball, it is the sport's only college media-related organization, founded in 1962.

The Dick Howser Trophy was created in 1987, shortly after Howser's death. Previous winners of the Howser Trophy are Mike Fiore, Miami, 1987; Robin Ventura, Oklahoma State, 1988; Scott Bryant, Texas, 1989; Alex Fernandez, Miami-Dade Community College South, 1990; Frank Rodriguez, Howard College (Texas), 1991; Brooks Kieschnick, Texas, 1992 and 1993; Jason Varitek, Georgia Tech, 1994; Todd Helton, Tennessee, 1995; Kris Benson, Clemson, 1996; J.D. Drew, Florida State, 1997; Eddy Furniss, LSU, 1998; Jason Jennings, Baylor, 1999; Mark Teixeira, Georgia Tech, 2000; Mark Prior, Southern California, 2001; Khalil Greene, Clemson, 2002; Rickey Weeks, Southern, 2003; Jered Weaver, Long Beach State, 2004; Alex Gordon, Nebraska, 2005; Brad Lincoln, Houston, 2006; and David Price, Vanderbilt, 2007.

For further information about the Howser Trophy, please contact: David Feaster, Chair, Dick Howser Trophy Committee, 100 N. 2nd Ave., St. Petersburg, FL 33701, 727-388-1000; or Bo Carter, Executive Director of NCBWA, 433 E. Las Colinas Blvd., Suite 1130, Irving, TX 75039, 972-556-1000, Ext. 213.

•

Quotes from the Dick Howser Trophy presentation ceremony in Omaha:

2008 Dick Howser Trophy recipient Buster Posey of Florida State: "I am very humbled in receiving this honor. Every home game for the last three years we have played in Dick Howser Stadium in Tallahassee, and I have gone by his statue on my way to the playing field. I want to thank the Dick Howser Trophy committee, my coaches and teammates and all those who have helped me achieve this honor. It has been a case of taking care of business in the classroom (2008 CoSIDA/ESPN the Magazine Baseball Academic Player of the Year) and on the field, and you just have to set your priorities."

Florida State head coach Mike Martin: "I'm just so pleased to be here to congratulate Buster Posey on winning this award. If we had about two weeks, I could tell you there is to know about what an outstanding individual Buster is. If I had a week, I could tell you how happy I am that he is here with our whole team. I had the privilege of coaching with Dick Howser, and I'm so happy his daughter Jana Howser is with us today. I could tell you a story about her when she was little in Tallahassee, but I don't think I will at this time."

Jana Howser, making her first appearance at the Howser Trophy presentation: "I want to thank the Dick Howser Trophy committee, the Greater Omaha Chamber of Commerce, and Omaha Press Club, and the National Collegiate Baseball Writers for allowing me to participate today. The whole Howser family is thrilled by the tribute to my dad, and Buster Posey is a wonderful individual who epitomizes the spirit of Dick Howser."

Howser Trophy Committee Chair David Feaster: "This award is based on leadership, character, performance, and courage and goes through the most thorough voting process nationaly with three ballots from the NCBWA. We are honored to have the help of the Greater Omaha Chamber of Commerce and the Omaha Press Club in presenting the 22nd annual award. Our winner, Buster Posey of Florida Satte, exemplifies all these qualities and is our first Howser Trophy winner to receive the Baseball Academic Player of the Year in the same season."

2008 Dick Howser Trophy:
• April 24: Dick Howser Trophy watch list
• May 15: Dick Howser Trophy semifinalists
• June 5: Dick Howser Trophy finalists
• June 14: Dick Howser Trophy presented in Omaha

Related links:
• More on the Dick Howser Trophy
• Official site (dickhowsertrophy.com)